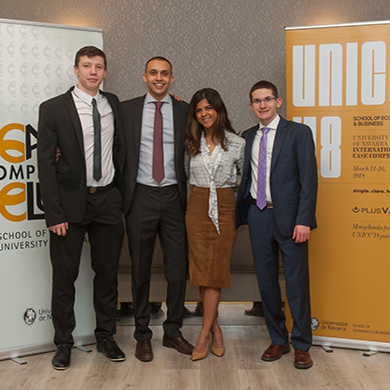 Lazaridis School students bring home Spanish gold
From March 11-17, a team of four Lazaridis School of Business and Economics students travelled with Dr. Sofy Carayannopoulos to Pamplona, Spain to participate in the sixth annual University of Navarra International Case Competition (UNICC).
The UNICC is a prestigious, international case competition that attracts top business schools from around the globe. While numerous schools apply, annually only 16 schools are invited to participate.
Over the course of six days, Samantha Sells (fourth-year Double Degree BBA and Financial Math), Matthew Donovan (third-year Double Degree BBA and UW BMath), Isaac Fisher-Jhirad (fourth-year BBA) and Ruslan Nikolaev (third-year Double Degree BBA and UW Computer Science) participated in the two three-hour and one 24-hour case competition, winning their division in each stage, and eventually going on to take gold.
"Our team really impressed me," says Carayannopoulos, associate professor, Policy. "As members of the JDCC team they gave up every Sunday starting in the fall term to practice and prepare alongside alumni coaches David Iudiciani and Srin Sridharan, and alumnus Eoin Ferguson. By February, the students were back at it, dedicating Sundays to preparing for UNICC. I'm blown away by their commitment and dedication. This team went above and beyond their weekly practice, doing extra research and preparation, which paid off at the competition."
Case competitions, such as UNICC, provide students not only with the ability to put their classroom teachings to the test, but also introduce them to the international business landscape.
"Participating in international case competitions is wonderful, because it really allows us to highlight the strengths of our school and students, as determined by third-party judges," says Carayannopoulos. "Our students' performance solidifies our school's reputation as a world-class business school."