 Award-Winning Faculty
2018 Donald F. Morgenson Faculty Awards for Teaching Excellence (Internationalization)
Stacey Wilson-Forsberg, Associate Professor, Human Rights and Human Diversity
Wilson-Forsberg is an educator who is deeply committed to internationalization in academia. Since she joined Laurier in 2011, she has broadened students' knowledge beyond Canada while developing their international competencies at home. In 2015, she created a Mexico field course that immerses students in communities to study with and learn from migrants and refugees. Her 'Internationalization@Home' initiative integrates students with English-language learners from the Laurier English and Academic Foundation (LEAF) program to build intercultural awareness and understanding.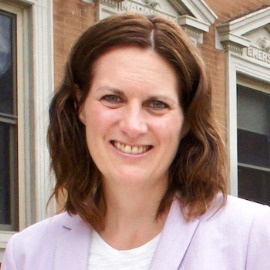 2022 Donald F. Morgenson Faculty Awards for Teaching Excellence (Internationalization)
Andrew M. Robinson, Associate Professor and Program Coordinator, Human Rights and Human Diversity
Andrew M. Robinson brings internationalization into every aspect of his work at Laurier. Over 17 years, he has forged strong relationships in local communities and around the globe, working with colleagues to create international internships in Ghana and hosting international events that bring people from around the world to Laurier's Brantford campus.
"All of my efforts to improve my teaching and to create opportunities for undergraduate students are answers to this question: 'How can I best serve my students?'" says Robinson. "Through the nomination process for this award, I was reminded of how many students and colleagues understand what I have been trying to do. For that, I am truly grateful and encouraged."