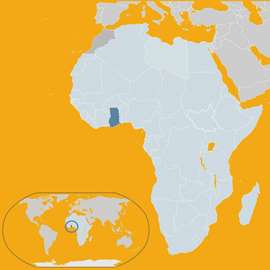 Call for Applications For Queen Elizabeth II Scholars Internships in Ghana: Summer 2018
Summary
Wilfrid Laurier University seeks students interested in becoming Queen Elizabeth II Scholars by working as interns with Ghanaian governmental and nongovernmental organizations that address issues related to human rights. Potential organizations for hosting placements include:
Please note: This competition is specific to the Brantford campus. There is a separate competition for the Waterloo campus.
Basic Details
Each successful applicant will be out of Canada for a 100-day period (approximately from the end of May to late August) within which they will work over a 90-day period with one of the above (or similar) organizations. To encourage participation and increase accessibility, each successful applicant will be awarded a grant of $6,000 to help defray most of the costs associated with the internship.
Eligibility Requirements
Each applicant:
must be a registered WLU student in an Honours or Combined Honours program; while preference will be given to students in Human Rights & Human Diversity and Social Work, students from all programs are encouraged to apply;
must be enrolled full-time and will normally have completed the 3rd year (minimum 13 credits) of their program at the time the internship will take place;
must have a minimum 7.0 GPA at the time of application;
must be 35 years of age or under at the time of their application for the internship;
must be a Canadian citizen or permanent resident;
must hold a Canadian passport or be willing to apply for a Canadian passport immediately upon being accepted for the program;
must, during the internship, be at the partner's office or field site for at least seven hours a day, five days a week (or 35 hours a week).
must return to Laurier in the fall term after the internship to complete academic credit associated with the internship (i.e., enrol in HR392 or approved equivalent);
must agree to act in accordance with Global Affairs Canada's travel advisory in effect at the time while in Ghana.
must, if successful, commit to satisfying the following requirements:

participate in a pre-departure program;
sign Laurier International's Acknowledgment of Risk and Responsibility Form;
sign Laurier International's Agreement to Participate on Study Exchange Form;
participate in a debriefing/re-entry session after returning to Canada;
participate in public engagement activities upon their return to Canada;
acquire a satisfactory "Police Vulnerable Sector Check" for working with vulnerable populations;
consent to Laurier International performing a background check with the Laurier Special Constable Service and the Laurier Behaviour Intervention Team;
any other requirements set by Laurier International.
The Application
Each applicant is required to submit the following:
an application letter. In this letter the applicant should address:

the eligibility requirements;
such other matters as:

your motivation for applying for the internship;
if you are successful you will become a Queen Elizabeth Scholar, so please reflect on how you could promote your involvement with the QE Scholars program on social media, and otherwise contribute to the QE Scholars community;
any academic and other skills, achievements and experiences that you think might be useful to an internship partner;
what you might hope to achieve during or through the experience; and
if applicable, demonstrated financial need.

for those who already hold a Canadian passport, a photocopy of the passport information page;
two letters of reference:

one letter from an academic (Laurier professor, TA, IA, or lab instructor); and
one letter from a non-academic (possibly leader of a group/club you are involved in, an employer etc.).
Note: when you submit your application you will be asked to sign a form authorizing Laurier International to perform a background check with the Laurier Special Constable Service and the Laurier Behaviour Intervention Team.
Applications must be submitted by Monday Nov. 26, 2018 at 4 p.m. to Mike Boylan, Coordinator Global Engagement Programming, Dalhousie Centre, 274 Colborne St., Room DC 135.
Note: Students who are currently out of the country can submit their applications by email to mboylan@wlu.ca and, if selected for interview, may be interviewed by Skype, etc.