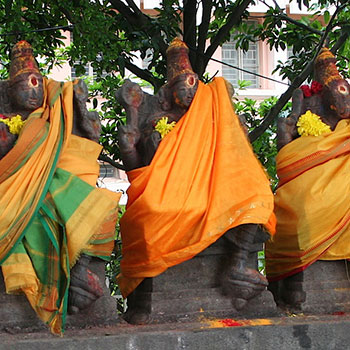 Study Tour: Interfaith Encounters in India
Join the Waterloo Lutheran Seminary for a study tour to India from Aug. 18 to Sept. 2, 2018.
Explore the rich religious diversity in the world's largest democracy. Learn how people of different faiths worship, interact and co-exist. We will visit venues of study and worship located in Bangalore and Tiruvannamalai.
Successful completion of each course may count for 0.5 credit toward a bachelor's or master's degree. Members of the public are welcome, but must participate as continuing education students.
Your leaders will be Allen Jorgenson, the seminary's assistant dean and professor of systematic theology, and Philip Mathai, adjunct faculty and pastor of Mount Zion Evangelical Lutheran Church in Waterloo.
Fees and Deadlines
All students
Anyone wishing to request single accommodation must also add a $400 single supplement to the deposit.
Payments received after Apr. 16, 2018 will result in an additional late fee charge of $50.
Registered students under 65
Initial deposit: $1,000.
Insurance: $75.
Academic fees: Regular tuition rates apply; as per usual academic deadlines.
Final payment: $2,600.
Total cost: $3,675 (plus registration and course fee for academic credit).
Registered students 65 and older
Initial deposit: $1,000.
Insurance: Must provide proof of supplemental insurance.
Academic fees: Regular tuition rates apply as per usual academic deadlines.
Final payment: $2,600.
Total cost: $3,600 (plus registration and course fee for academic credit).
Continuing Education (ConEd) students under 65
Initial deposit: $1,000.
Insurance: $75.
ConEd fees: $150.
Final payment: $2,600.
Total cost: $3,825.
Continuing Education (ConEd) students 65 and older
Initial deposit: $1,000.
Insurance: Must provide proof of supplemental insurance.
ConEd fees: $150.
Final payment: $2,600.
Total cost: $3,750.
Tour costs include:
Airfare.
Airport transfers in India to/from your accommodations.
Transportation for scheduled tour activities.
Double-occupancy accommodations and all meals including some lunches.
Entrance fees to all sites.
Honoraria to guest speakers.
Group tour visiting donations to churches and agencies.
Taxes and gratuities to drivers and other service providers, maps, and the tour information and services packet.
Tour costs not included are:
Beverages and some lunches.
Telephone and other personal communication charges.
Personal purchases.
Personal travel documentation fees.
Limited single supplement available at an additional cost (approx. $400). Please make this request early since they are limited.
Additional Costs, Payments and Registration Process
Registered Waterloo Lutheran Seminary students for academic credit:
Academic fees and registration requirements: Registration for academic credit courses requires separate additional registration on the Laurier LORIS system. Admission to an undergraduate/graduate level academic program is required. Academic tuition and incidental fees must still be paid separately to Laurier.
Continuing Education Registration:
Continuing Education Students must enrol in the course portion using the Continuing Education portal. That link will be forwarded to you on completion of this registration form. All Study Tour fees for Continuing Education students will be collected through the Laurier Office of Continuing Studies.
Please Note: All payments (deposit or final payment) are non-refundable once processed. Any changes to airline tickets once they have been issued will be subject to additional fees.
Note for Travellers
Due to the nature of this study tour we cannot guarantee accessible transportation and facilities.
Mobility, Accessibility and Housing Notice
Please note that students must be able to climb stairs and walk for reasonable distances. Not all buildings and washroom facilities on this tour will be wheelchair accessible. Students requiring an attendant for medical/accessibility reasons will be responsible for the full cost of the attendant's accompaniment on the tour. Housing will be basic, dormitory-style accommodation. If you have any questions or concerns about the mobility/accessibility or housing issues on the study tour, please speak with Allen Jorgenson prior to registration.
Permission to use Digital Images
Waterloo Lutheran Seminary reserves the right to use all photographs, video or other digital transmissions for promotional material. These include those provided to us by the group leader or other members of the group participating in one of our tours.
Travel Insurance
Travel insurance is mandatory and has been arranged for this group with a carrier specializing in educational institutions for students enrolled in an academic course for credit or continuing education course under the age of 65. Details of the policy which covers medical, trip cancellation and interruption expenses will be provided to each participant. Students 65 and over must purchase their own supplemental trip cancellation/travel and health insurance and provide proof of coverage (i.e. carrier, policy number, coverage. A photocopy of the policy is recommended). This must be provided by June 30th.
Required Documentation and Health
Travel Advisories/Documents/Health Requirements: Participants are responsible for ensuring they have all the necessary travel documents and health requirements that apply to their personal situations. Participants are responsible for the cost of all travel documents and health related requirements.
Flight Deviations and Points/Rewards Payments
The study tour participants are expected to fly together on the pre-arranged group flights. A limited number of flight deviations may be possible under specific circumstances. Flight deviations must be requested and approved at the time of deposit by Allen Jorgenson. Any participant who makes flight deviation arrangements without prior permission risks the entire group losing their group flight pricing. Participants are responsible for all costs and fees associated with flight deviations. Payment of flights using air miles or points rewards will not be permitted due to the nature of our group booking contract.
Group Participation
All participants are required to participate in pre-travel orientations and to do pre-travel study as recommended by the instructor. Participants are also required to participate in the meetings, reflection sessions, and travel with the group at all times during the study tour.
Itinerary, Activities and Study Topics (To Be Confirmed)
Monday, Aug. 20
Tuesday, Aug. 21        
Morning:
introduction to the context.
Indian realities.
Christianity in India.
Ecumenism in India.
Afternoon:
Indian Christian theologies and biblical interpretations.
Indian Christian theologies.
Indian encounter with the Bible.
Interaction with UTC faculty and students.
Wednesday, Aug. 22
Morning:
Church and religious diversity.
Intercultural worship.
Introduction to Indian religious traditions.
Theologies of interfaith dialogue.
Interfaith initiatives.
Afternoon:
Visit to temples, mosques, and gurudwaras.
Thursday, Aug. 23
Travel to Tiruvannamalai (225 km from Bangalore).
Exposure to interfaith initiatives in Tiruvannamalai.
Visit to Ramana Ashram.
Visit to Quo Vadis Dialogue Center of the Arcot Lutheran Church.
Overnight in Tiruvannamalai.
Friday, Aug. 24
Morning:
Exposure to church and diaconal ministry.
Travel to Vellore (100 km from Tiruvannamalai).
Visit the Christian Medical College Hospital.
Return to Bangalore and stay overnight at ERC.
Saturday, Aug. 25
Theological reflections on caste and patriarchy.
Visit Visthar, a secular civil society organization.
Sunday, Aug. 26
Morning:
Exposure to different denominational and liturgical traditions.
Church of South India.
Roman Catholic Church.
Mar Thoma Church.
Syrian Jacobite Church.
Methodist Church of India.
Baptist Church.
Afternoon:
Sightseeing and shopping.
Evening:
Community worship service.
Monday, Aug. 27
Morning:
Church and Indigenous communities: tribal theology.
Afternoon:
Visit to Sisters of Charity home.
Tuesday, Aug. 28
Wednesday, Aug. 29
Morning:
Lectures on St. Thomas Christianity.
Afternoon:
Visit to churches, shrines and synagogue.
Thursday, Aug. 30
Morning:
Church and ecological crisis.
Afternoon:
Church and human sexuality.
Friday Aug. 31
Sightseeing, shopping, boat trip in the lagoons.
Saturday, Sept. 1
Sunday, Sept. 2
Departure (if the departure is on Sunday night, you may attend worship services in different churches).
Additional Resources
Places we will stay include:
The Ecumenical Resource Centre of the United Theological College (UTC), Bangalore, is where we would stay from Aug. 20 to Aug. 27/28. UTC is the pre-eminent ecumenical theological institution in India.
Shanthigiri Ashram where we would be from Aug. 27/28 to Sept. 2. We would stay in the a/c Archana double rooms. Shanthigiri Ashram is a retreat centre of the Marthoma Church, a reformed group within the Oriental Orthodox family of churches.
Places we will visit include: