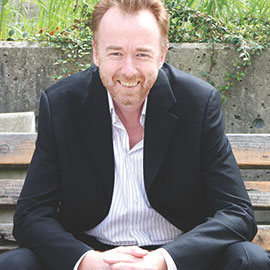 Psychology Laurier kicks off anniversary celebration with 12th annual Hunsberger Memorial Lecture
To kick off the 60th anniversary celebration, the Department of Psychology presents Professor Adrian Owen, PhD, from The Brain and Mind Institute, Western University, Canada with his lecture, "When thoughts become actions: Detecting awareness in the vegetative state."
In recent years, rapid technological developments in the field of neuroimaging have provided new methods for revealing thoughts, actions and intentions based solely on the pattern of activity that is observed in the brain. These methods are now being employed routinely to assess residual cognition, detect consciousness and even to communicate with some behaviourally non-responsive patients who clinically appear to be comatose or in a vegetative state.
In this talk, he will compare those circumstances in which data from fMRI and EEG can be used to infer consciousness in the absence of a behavioural response with those circumstances in which it cannot. This distinction is fundamental for understanding and interpreting patterns of brain activity in various states of consciousness (including anaesthesia), and has profound implications for clinical care, diagnosis, prognosis and medical-legal decision-making after severe brain injury. It also sheds light on more basic scientific questions about how consciousness is measured and the neural representation of our own thoughts and intentions.
Event Details
Date: Friday, Nov. 4, 2016 from 3 p.m. to 4:30 p.m.
Location: Bricker Academic, BA201, Laurier
Reception to follow in N2005 (Science Building).
The event is free to the public.
About Professor Adrian M. Owen
Professor Adrian M. Owen is currently the Canada Excellence Research Chair (CERC) in Cognitive Neuroscience and Imaging at the University of Western Ontario, Canada. At Western, he is also Scientific Director of BrainsCAN: Brain Health for Life, a $66M research program funded in 2016 by the Canada First Research Excellence Fund (CFREF).
Owen also directs the Azrieli program in Brain, Mind, and Consciousness funded by the Canadian Institute for Advanced Research (CIFAR). His research combines structural and functional neuroimaging with neuropsychological studies of brain-injured patients and has been published in many of the world's leading scientific journals, including Science (2006; 2008), The New England Journal of Medicine (2010), Nature (2010) and The Lancet (1998; 2011).
He is best known for showing that functional neuroimaging can reveal conscious awareness in some patients who appear to be entirely vegetative, and can even allow some of these individuals to communicate their thoughts and wishes to the outside world. These findings have attracted widespread media attention on TV, radio, in print and online and have been the subject of many TV and radio documentaries.
Professor Owen has played multiple editorial roles, including 8 years as Deputy Editor of The European Journal of Neuroscience. Since 1990, Owen has published over 300 articles and chapters in scientific journals and books. His h-index is 89.