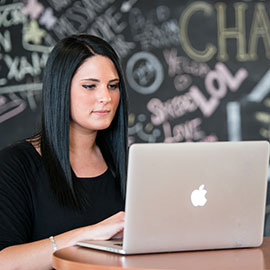 Owning your online presence
Internet users, no matter their frequency or level of engagement with the internet, have some form of online presence, which has been amplified in the age of social media and online sharing. It is valuable for all users, whether they are students, faculty, or staff, to consider their online footprint.
Below are some high-level considerations regarding the information that users may leave behind, either intentionally or unintentionally, and how you can own your online presence.
Personal information is like money. Value it. Protect it.

Information about you, such as your purchase history or location, has value – just like money. Be thoughtful about who gets that information and how it's collected through apps and websites. 

Be aware of what's being shared.

Set the privacy and security settings on web services and devices to your comfort level for information sharing. It's alright to limit how and with whom you share information.  

Share with care.

Think before posting about yourself and others online. Consider what a post reveals, who might see it and how it could be perceived now and in the future.
About Cyber Security Awareness Month
Cyber Security Awareness Month is an initiative that began in the United States under the direction of the U.S. Department of Homeland Security. It is observed every October and offers an opportunity to reflect on the importance of online safety.
Each year there are weekly themes that address some of the top issues in cyber security, and Laurier's ICT department participates by sharing the most relevant information with our faculty, staff and students. Stay tuned for weekly posts throughout the month of October containing important tips on how you can protect yourself, your information and Laurier – online.