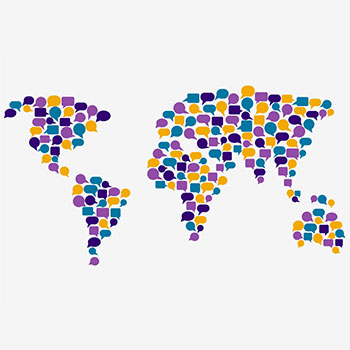 Laurier International here to support our international students
Laurier International provides services and support for all international students at Laurier, as well as intercultural events for international students and the Laurier community.
Though we continue to face challenges in winter 2021, the staff at Laurier International are here to help!
Supporting Your University Life
The International Student Support team is available to support international students in all aspects of university life. Our International Student Advisors (ISAs) can provide information and guidance on immigration issues, such as study permits and post-graduate work permits, as well as provide you with academic and cultural support in your transition to a Canadian university experience.
ISAs also host immigration workshops and information sessions during the year, which will continue virtually in the winter term. The ISAs are available for virtual appointments and will be holding virtual drop-in hours beginning Jan. 22. You can also email them at laurierinternational@wlu.ca in Waterloo or lbinternational@wlu.ca in Brantford.
Finding Support in Your Peers
Our team of International Student Leaders (ISLs) are upper-year Laurier students who can provide you with a student's perspective on life at Laurier, answer your questions and help you connect with other students. The ISLs host events and activities throughout the academic year and will continue to host events virtually during this winter term, including our student favourite Coffee Club.
Getting to Know Fellow Students Through Events
Other events that happen during the year include monthly drop-in lunches, day trips to local attractions, Lunar New Year celebrations and holiday dinners. Social distancing means we can't get together in person for lunch or dinner, but we are planning to have virtual social and cultural events so we can still stay connected.
Engaging You on a Global Level
Laurier International also runs global engagement programming, which helps you build your intercultural knowledge and will be available virtually during the winter term. You can complete the Intercultural Certificate, participate in the Tandem Language Program and even volunteer as a Global Engagement Student Ambassador.
Connect with Us
Although we cannot meet with you in person, we are here for you, online. All of our staff are working during remote office hours. Check out our updates page frequently to learn more about our service hours and updates.
However, once we are back on campus and are able to see you in person, you can find us in Waterloo in the Arts Building, 2A01 and in Brantford in One Market, OM 310. We're available to support you, whether virtually or in person, from Monday to Friday, 8:30 a.m. to 4:30 p.m.