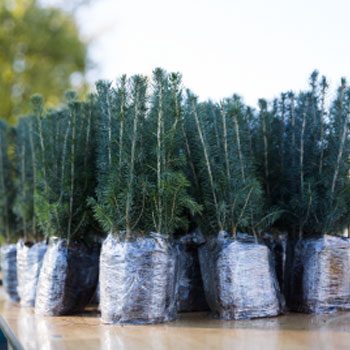 Planting a forest on campus
We're pining for a Laurier forest. This year the Laurier Sustainability Office launched a crowdfunding campaign with Laurier Alumni's new crowdfunding platform HAWKstarter. The campaign aims to raise $5,000 to plant over 100 trees here at Laurier. Up to 125 trees will be planted on campus and in the community. TreeCanada will help to identify native species of trees to plant. In the spring members of the Laurier community will be invited to help plant the new trees. 
Laurier's campus once had many more trees. Over time many have been removed due to the changing campus or lost because of the emerald ash borer. In 1995, Dr. Terry McIntosh (PhD) created a map of the Laurier campus that identified all of the different species of trees that could be seen on a walking tour of the Waterloo campus.
Trees provide many benefits, including helping to reduce stress, provide clean air, reduce noise pollution, provide a habitat for animals and they are sure to spruce up our campus! Stay tuned for updates and for the opportunity to help plant trees on campus. The campaign runs until Dec. 31, you can find more information and ways to support this project on our HAWKstarter page.