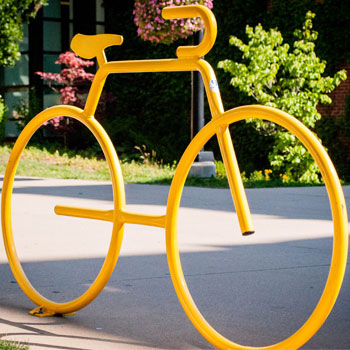 Waterloo Bike Month
Keep your eyes on the road, because we will be working to recognize those biking around and across campus this month. TravelWise's annual Bike Month runs from June 1 to June 30 to reward and encourage sustainable commuting.
If you participate in any of their challenges, you have a chance to win $100 Downtown Dollars.
We have been running our own events as part of this initiative to give the Laurier staff, students, and faculty on the Waterloo campus a chance to participate in the challenges and win.
On June 5, staff had the opportunity to participate in Cycling 101, a Sustainability Certificate Workshop.
On June 13, the office hosted a Bike Lunch with the University of Waterloo, where we rode to Waterloo Park to enjoy a picnic and ice cream.
Along with the continued promotion of the TravelWise challenges, on Tuesday, June 20 from 7:30 a.m. to 9:30 a.m. the office will be hosting a Bike-to-Work-Breakfast in partnership with TravelWise.