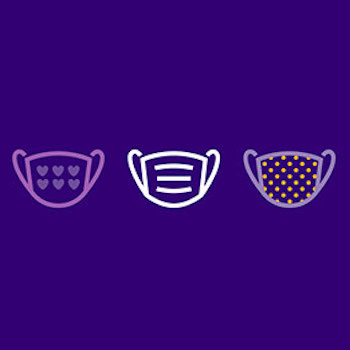 COVID-19 Self-Assessment on the SAFEHawk app
What is the COVID-19 Self-Assessment on the SAFEHawk app?
Wilfrid Laurier University has taken significant steps to do our part in the national and global effort to contain the spread of the coronavirus. We have been working to develop a detailed and integrated plan for gradual return to on-campus operations while adhering to public health guidelines. Student safety is a top priority for the university. The COVID-19 self-assessment on the SAFEHawk app is designed to be used by students who are living on or near our campuses before they access approved spaces such as the Athletic Centre, Laurier-Brantford YMCA, Library, food services or classrooms. Completing the self-assessment will help to protect your safety as well as the safety of our faculty, staff, students and the communities in which we operate.
The SAFEHawk app is a quick and easy way for students to complete the required self-assessment before coming onto campus to access a university building. Completing the self-assessment is required under the university's COVID-19 safety protocols, which were implemented for the health and safety of all members of the University community.
How do I use it?
Download the SAFEHawk Application to your smart phone.
Each time you plan to visit a Laurier building in person, complete the COVID-19 Self-Assessment Questionnaire on Laurier's SAFEHawk app prior to your visit.
Open the app, select the campus you want to visit.
Click "Daily COVID-19 Self Assessment."
The first time you complete the assessment, you will be required to login using your Laurier credentials.
Select the "COVID-19 Self Assessment Form."
Fill in all the requested information and read the COVID-19 Safety Protocols.
Once you have read them, check "I Agree" and click "Continue."
Read and answer the health-related questions.
Confirm your responses and click "Continue."
If approved, the app will provide you with a green "pass" badge containing a unique QR code. You may be required to present this badge to student staff, staff or faculty on campus to access certain areas. This badge lasts for 24-hours before expiring.
If denied, you will receive a red "fail" badge containing a QR code and are not permitted to visit campus. You should stay home and reach out to Public Health or the Student Wellness Centre (Waterloo or Brantford) according to university protocols.
After 24-hours, your badge will expire and you will be required to complete the assessment again before returning to campus.
What information is the app collecting?
Personal information of individuals accessing a university building is collected under the authority of the Wilfrid Laurier University Act and privacy policies to assist in maintaining the health and safety of the university community. Information gathered through the COVID-19 screening may be used by the university solely for the purpose of our Facilities and Asset Management team cleaning and sanitizing Laurier spaces. This information will be retained and used by the university only for these purposes as they are related to the health and safety of the Laurier community. Should a member of the Laurier community test positive for COVID-19, Public Health will conduct contact tracing to notify individuals who may have been in close contact and may be at risk. Public Health will contact those individuals directly. Identifying details will not be shared publicly.
SAFEHawk's self-assessment tool has been evaluated for compliance with privacy and security requirements and approved for use in accordance with the university's External Information Technology and Cloud Services policy. For questions about the information collected in SAFEHawk, please refer to AppArmor's privacy and security policies.
If I am "approved," what do I have access to?
A "pass" badge may be required to access all approved on-campus services and spaces.
I don't have a cellphone, is there an online version of the COVID-19 Self-Assessment available?
If you have any issues accessing the SAFEHawk application on your phone, we also have a form that you can complete to determine if you are approved or denied access to campus. When you complete this questionnaire, you will be emailed a badge that will indicate if you are eligible to go on campus.
What happens if someone submits false, incomplete or misleading information?
Supplying false, incomplete, or misleading information to the COVID-19 self-assessment is considered misconduct under the Non-Academic Student Code of Conduct and subject to interim measures or sanctions as deemed reasonably necessary for the health and safety of members of the university community.
The very real threat of COVID-19 is why we are not together on campus as usual, and the fastest and safest path to a full campus reopening is for everyone to step up and take responsibility for protecting themselves and those among us who are most vulnerable to the virus. Honest, accurate and frequent health monitoring plays a critical role in these efforts.