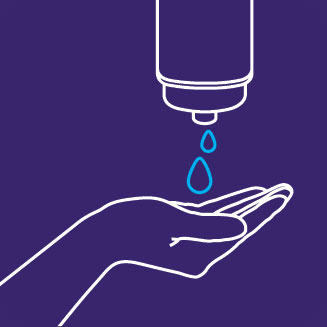 Tips for preventing the spread of coronavirus
Posted: Jan 29, 2020
For your health and safety, please adhere to the following disease-control prevention and control strategies outlined below.
Protect Yourself and Protect Your Community
Cover your nose and mouth when you cough or sneeze by using a tissue or cough into the crook of your elbow if you don't have a tissue.
Wash your hands often with soap and water, especially after you cough or sneeze and before eating. Alcohol-based hand sanitizers are also effective (Laurier has installed hand sanitizing stations throughout its campuses and locations).
If you get sick with cough, fever or difficulty breathing, stay home and call for medical help (your doctor or Telehealth at 1.866.797.0000 or, if it's an emergency, call 911). Advise your health-care provider about your symptoms before you go to see them so that they can properly manage your visit.
If you have travelled to Wuhan, China or if you have had personal contact with infected individuals and develop symptoms of infection, avoid contact with others and contact a health care professional.
Basic First Aid Items You Should Have
Having a thermometer is a good idea to monitor your health. Also keep at home:
hand sanitizer
decongestant
fever reducers (ibuprofen/acetaminophen)
disinfectant household wipes
your provincial health card