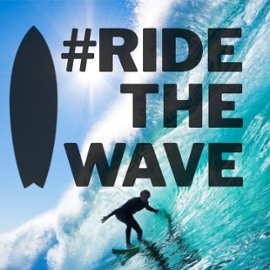 Ride the Wave Fall Schedule
Ride the Waves of student life with our skill-building workshops designed to offer practical tips for increasing resilience, managing stress, and developing skills to cope with the turbulence of life.

Drop in to hour-long workshops throughout the semester to learn about wellness from Student Wellness Centre counselling staff.

Ride the Wave workshops are free for all registered students, and registration is not required.
Wednesdays at 10:00 am and Thursdays at 2:30 pm in the Wellness Education Centre (below the Student Wellness Centre and down the hall from Veritas Café).
Schedule
September 12/13: Power of Connections: This workshop addresses the importance of building systems of support, especially when transitioning to university life.  It will also discuss how to identify and refer a friend in distress.
September 19/20: Mindfulness: Learn strategies to increase your self-awareness and focus on the present moment.  This workshop teaches mindfulness skills for daily practice and to help you cope when feeling stressed.
September 26/27:  Social Media and Mental Health: In this workshop, we will discuss how social media can impact mental health, ways to set boundaries on social media use, and healthier ways of thinking about the role of social media in our lives.
October 3/4:  Food and Your Mood: The food we eat impacts our physical health and our mental wellness.  Learn tips for eating well, managing emotional eating, and preventing yourself from becoming "hangry."
October 17/18:  Effective Communication  Enhance your communication skills—learn how to set healthy boundaries, resolve conflict, and assertively ask for what you want in personal and professional relationships. Includes special discussion on healthy text and email communication.
October 24/25:  Self-Care and Resilience  Learn how your habits can impact your sense of well-being and your ability to cope throughout the day.
Oct 31/Nov 1:  Coping with Difficulty   Everyone experiences times when challenges build up and overwhelm.  This workshop offers simple but effective strategies to help you develop distress tolerance skills in order to cope when times get tough.
November 7/8:  Meditation  Mindfulness meditation can help reduce rumination and over-thinking, which can reduce stress and anxiety.  Learn about meditation and participate in an introductory exercise.
November 14:  Consent and Healthy Relationships  Healthy relationships are essential to wellness.  Join us to talk about respectful relationships, how to maintain wellness within them, and how to cope if they end.  We will also talk about having  positive conversations about consent and the importance of personal boundaries.
November 21/22: Flu Clinic (no workshop, but come for a flu shot!)
November 28/29:  Exam and Performance Anxiety  Learn ways to handle performance anxiety, improve your mental game, and find inner calm during midterms and exams.