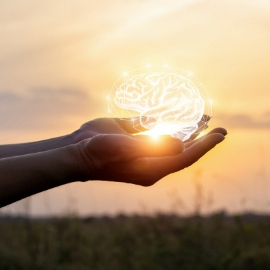 #RTW of COVID-19 and Beyond: Coping Through Acceptance and Compassion
April 28, 2020
By Sam Katerji, MA, RP and Carrie Pollard, MSW, RSW

In the first article of this series, we talked about how to better understand your responses to the current global pandemic.  In this article, you will learn about how to mindfully connect with your responses, and how to manage them through acceptance and self-compassion.  These strategies will help you reduce judgement of yourself and others, focus on what you can control, reduce feelings of anxiety and loss, and increase your resilience.  They may appear simple but be difficult to put into practice.  Be patient with yourself if you have trouble.  
Acceptance and Mindfulness
Acceptance is acknowledging your circumstances as they are, regardless of whether you like them.  Coping by acceptance means changing how you relate to your response to these uncontrollable circumstances.  The opposite of acceptance is resistance.  Some signs of resistance are irritability, racing thoughts, anxiety, distraction, and denial. Resistance occurs when you're focused on what your experience should be instead of what it is.  Our current situation is tough to accept, so resistance is initially a natural reaction.  But how do we accept that which feels unacceptable?  It's not easy, but mindfulness helps. Mindfulness is intentionally focusing on the present moment, remaining open-minded and being non-judgementally aware of the flux in your responses.  The goal is not to change your response: it makes sense to fear the novel coronavirus.  The goal, instead, is to coexist with that realistic fear.  You do not need to allow the fear to control you.
The 'Other Side'
People can see reality more easily by noticing the 'other side'. For example, there may some unpleasant changes caused by moving back home, such as a loss of independence; but there are also some pleasant changes, such as home cooked meals and fewer obligations.  Seeing the other side can also help you make sense of confusing combinations of emotions, like feeling dread and comfort in doing schoolwork or in living back with family.
 
You can practice mindfulness and acceptance by sitting with your feelings while you allow your thoughts to focus on what you're doing in the present (walking, dancing, listening to music) rather than on your worries.  Ruminating (being stuck in your head) will cause your emotions to intensify and become more difficult to manage.  Instead, practice being in the here-and-now by creating a narrative based on the current facts instead of worries about the future.  
Personal Values 
Another way to find and stay on a path of acceptance and mindfulness is look at your values.  In this way, you can focus on what you can control and what is most meaningful to you.  Ask yourself:
What makes me feel good (even slightly) when I can't control the situation that I'm in?
 
How do I want to remember what I did or didn't do during this time (versus 'what do I think others want me to do')?
Self and Community Compassion
It can be helpful to remember that people all over the world are in this together.  Compassion is about extending positive emotions outward, to loved ones, strangers, and the world in an open-hearted way. Acknowledge the losses you're facing. Life has been disrupted. Instead of criticism, show kindness. Instead of aloneness, remember our common humanity. And, instead of ruminations, practice being mindful.
 
You can also show kindness by adjusting expectations of productivity. It is tough to be productive at the best of times let alone during a global crisis.  People have much less attention to work with because they're living through so much.  Recognize that these are unusual circumstances that you have had to respond to quickly in unfamiliar ways.  It makes sense that it's harder to focus and be motivated or to get out of bed sometimes. Let go of the mindset that you need to be achieving great things or making self-improvements worthy of the amount of time you spend at home. Focus instead on productivity in the small day-to-day moments. It is enough. Allow gentleness in moments of suffering, ground yourself with the beautiful things going on in your life, and ride the wave.
These articles are based on, Riding the Wave of COVID-19 and Beyond, a printable resource that includes references activities and references.  If you would like a copy of that article, please email wellness@wlu.ca