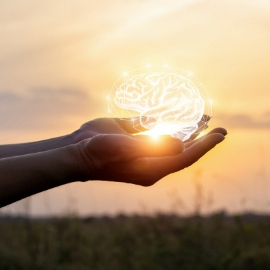 RTW of COVID-19 and Beyond: Manage Anxiety
April 30, 2020
By Sam Katerji, MA, RP and Carrie Pollard, MSW, RSW
In the second part of this series, we focused on how to use mindfulness and other skills to increase acceptance in our current, incredibly difficult, situation.  We discussed using self-compassion to reduce judgement and allow for kindness and connection. In this article, we will talk about learning to manage thoughts and behaviours to help contain and reduce anxiety.
Realistic and Unrealistic Anxiety
It's no wonder that so many of us feel anxious as this period of stress continues, and along with it, the near-constant news updates. This anxious state can make it difficult to discern what information is realistic and accurate. It's important to get our facts from reliable sources (Health Canada, WHO) and work to put anecdotes and information from social media in perspective. We can use mindfulness to pause and notice our emotions and then assess if they fit the facts.  We can ask ourselves: where did that person get their information?  How do they know it's true?  Is it exaggerated?  Remember to watch out for thoughts that predict the future.  If you assume the prediction will come true, you will experience the stress of that hypothetical future now, and it prevents you from problem-solving your present life.
Challenging the thoughts connected to your anxiety can help keep that feeling at a tolerable level.  While the principle of challenging thoughts is simple to understand, it is difficult to apply. This is why it is important to practice and give yourself permission not to be perfect.

Here is one way to challenge thinking:
Start by identifying your upset feelings (anxiety, frustration, sadness, guilt);
List the thoughts related to the reaction you're having right now.  Pay attention to unrealistic demands of yourself and others and negative exaggerations: shoulds and musts, low frustration tolerance (I can't stand it), and self/other rating (I am or s/he is bad or worthless);
Describe the situation that brought on the current feelings (this can be an internal or external experience, real or imagined, in the past, present or future);
Question your logic.  Have a debate with yourself.  Challenge your thinking.  Here are some questions to ask yourself: what is this sadness getting me?  Is it helpful or self-defeating?  Where is the evidence to support the existence of my assumptions?  Is my belief realistic?  Can I really not stand it?
What is a more accurate way to think of the situation?  Notice the impact of this other perspective on your feelings. Are they less intense?  To think more rationally, strive for: non-dogmatic preferences, such as wishes, wants, and desires instead of absolutes.  Evaluate the 'badness.'  Acknowledge that even if it's bad, it will be ok.  Strive for high frustration tolerance: I don't like it, but I can stand it.  Acknowledge that you and others are imperfect, fallible beings; i.e. do not globally rate yourself and others.

 
Behavioural Activation
One way to cope with uncertainty is to focus on what you can control, such as your personal schedule. Create some routines and rituals to incorporate into you daily activities.  For example, start mornings off with personal hygiene, eat, and get dressed; then include activities that are pleasant and feel meaningful. Recognize that you may not always feel like it and that's ok but notice when that becomes the majority of the time.  People all have certain times in the day when they're most engaged and focused. By figuring out what times those are for you, you can schedule the toughest tasks during that time and ease your way into feeling like it.
 
Consistency is key to maintaining a schedule; keep this in mind with sleeping, eating, working, and self-care. Fun activities and mundane activities are both important because each are different in how they replenish your internal coping resources.  Remember to balance pushing yourself to participate in life during this time with accepting that you may not be as productive as usual.  Acceptance of both keeps you afloat and will allow you to ride the wave of your current situation.
 
 
These articles are based on, Riding the Wave of COVID-19 and Beyond, a printable resource that includes references activities and references.  If you would like a copy of that article, please email wellness@wlu.ca