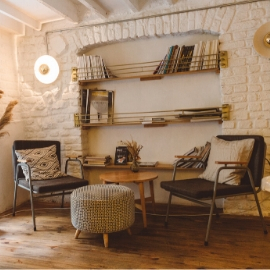 Talking About Race and Privilege with Family and Friends
By Nathan Reeve, BA, BEd, MEd candidate
June 29, 2020
These past few weeks might have led to a lot of conversations with loved ones about anti-Blackness and other forms of racism.  Maybe this felt uncomfortable, and that's okay. While these issues are not new, perhaps these types of conversations are not something you are used to.  However, just because these conversations are uncomfortable, it does not mean we should avoid them.  It is helpful to remember that Black, Indigenous, and people of colour (BIPOC) deal with racism every day, and we all have a role to play in addressing this type of harm.

The following are some simple steps you can take to have an uncomfortable conversation safely and effectively with someone you know.  Remember that it is okay not to have all the answers right away, and it is okay to make mistakes.  This is part of learning.  As an educator, I would be remiss not to acknowledge that without mistakes we would never learn anything new.
Acknowledge your Privilege
Before we can have any conversation with others, it is important first to work on ourselves.  The first step includes acknowledging your own privilege.  Privilege is unearned and often invisible, so acknowledging it and understanding the role it has in your life is important.  You can read more about what it means to have privilege here.  For example, writing this as a white, cisgender man, it is important for me to recognize that I will never fully understand what Black, Indigenous and people of colour experience on a daily basis.  However, this does not mean I am removed from the conversation; rather, it is important for me to develop a consciousness about why I do not have those experiences, how I benefit from systems that work to marginalize others, and how I might be upholding or reproducing racism in my daily life.

There is no doubt this is difficult, and this difficulty means we are likely to make mistakes, but fear of making mistakes does not account for a lack of action.  Acknowledging our personal privilege helps us realize our role in moving forward.
Educate Yourself
Before we can have an educated discussion, we need to learn for ourselves.  Being anti-racist is more than just being a kind and caring person.  It requires us to learn about how racism is built into our daily lives and strategies to respond to and prevent racial injustices. It is not the responsibility of folks who experience systemic harm and injustice to educate everyone, so educating ourselves is our own individual responsibility.  Racism is a global problem, and there are a lot of factors that are out of our control.  Focusing on what we can control can make it easier for us to take action and make a difference in our own communities.  A large part of what we can control is the information we are taking in.  This information can deepen our understanding and ensure whatever actions we take respond to harm instead of reproducing it.  There are many easily accessible ways to educate ourselves on addressing racism and white supremacy.  This includes the social media accounts we can engage with. Look at your social feeds and educate yourself by following accounts that enable you to listen to marginalized voices, artists, and businesses.  For example, a simple start is to follow @officialmillenialblack for great content on how to be an anti-racist ally, how to engage in action, and to diversify your feed. Spend the time to learn more and expose yourself to content that you may be missing.
Mentally prepare yourself for the conversation
Once you feel like you have the appropriate information for yourself, it can be helpful to collect your thoughts before engaging with friends and family.  If it helps you, try writing down your thoughts. This can help organize what you are going to say so you can enter the conversation with confidence and assurance that you know your facts.  Now, no one is expecting a PowerPoint presentation, but just thinking about what you are saying before saying it can be really helpful, just like it would be before a presentation in class.  Ideally you would not just walk into a presentation without knowing your facts or what you are going to say next.  Why take a chance with such important issues?

It may also be helpful to work through answers to common areas of tension in your own words.  For example, if you are talking about "Black Lives Matter" and someone responds with "all lives matter," how might you explain to them in your own words that of course all lives matter but Black lives are disproportionately impacted by violence and therefore if all lives matter, we need to hold space to address these specific injustices.

If writing is not really your thing and you are more of an auditory learner, try practicing talking about it with a trusted friend.  By going through the motions of having the conversation, either in written form or out loud, you will come up with possible questions you might be asked, and this will give you a bit more time to think ahead.  They may even spark a few questions themselves that can inspire further thinking.
The conversation
If you think the conversation might be a challenging one to have, go into it with the mindset of it being a learning opportunity for yourself and the other person.  In other words, the conversation is just one step in a longer learning journey.  While being from different generations, communities, or cultures does not excuse someone from upholding racism, it might be helpful to frame your words in a way that helps them learn to be more socially aware, rather than shaming them for what they do not know.

A good way to support learning is to practice "refocusing the conversation" back to the primary issue.  For example, you may enter a conversation about Black Lives Matter and policing that requires refocusing.  This conversation may bring up comments in defence of policing like "not all cops are bad" or comments denouncing protestors like "can you believe the looting?"  While these comments should be addressed, there are ways in which focusing on them can take focus away from the primary issue: racial justice.

The Instagram account, @liana.teresa uses the following conversation switch to show this technique:

Them: "Wow…have you seen the news?"

You: "Yeah isn't it incredible how the country is coming together to demand justice?"

This simple switch can be effective in moving the conversation back to racial justice and addressing commentary meant to derail or dilute discussions about the larger issue at hand.

Entering conversations with an intent to anger or shame can cause others to put up their own defenses.  This might not always be the most effective way of teaching someone, as they may instinctively dig deeper into their own opinions.  Instead, coming into a conversation prepared, and with the goal to educate and inform can make the situation more comfortable for both of you.
Next steps
We need to practice listening and learning from others. As an educator, I know the importance of ongoing learning.  This is a long-term commitment, and it is okay to change our opinions after learning information.  Read that again.  It is okay to change your opinion after learning new information. This is part of staying informed and educated.  Understanding that change may take time and require us to engage with many forms of new information may be a helpful perspective when talking to people within your social circle.  Knowing we can learn and change our perspective not only provides hope that your loved ones will be able to learn more about key issues such as race and privilege, but also makes the conversation a bit easier to have.

What is important is educating yourself, listening to the voices of others, not being afraid of making mistakes, and taking action in your daily life.  These conversations might make you and the other person uncomfortable, but discomfort shouldn't stop any of us from speaking up against hate.  You don't have to be an expert or a professional to take the time to learn more and to support and encourage those around you to learn more too.