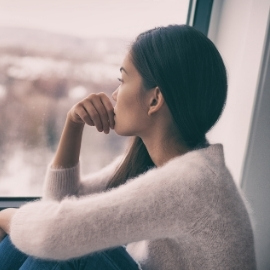 Feeling SAD? Surviving Seasonal Affective Disorder
By Myra Meier, BA, MACP, MSW candidate and Sarah Syrett, MSW
January 18, 2021
Are you struggling with the early darkness and the cold?  Are you having more difficulty than usual finding motivation?  If so, you might be part of the 5% of the adult population that experiences Seasonal Affective Disorder (SAD).
Common symptoms include:
Feeling depressed most of the day almost every day 
Losing interest in activities you once enjoyed 
Low energy 
Difficulty sleeping or sleeping too long 
Experiencing appetite changes  
Feeling sluggish or agitated 
Having difficulty concentrating or making decisions 
Feeling hopeless, worthless, or guilty 
Having frequent thoughts of death or suicide
Experts are not exactly sure of the causes of SAD, but studies have pointed to several factors: 
The decrease in sunlight may be disrupting your body's internal clock (circadian rhythm)
A drop in the brain chemical (serotonin) that affects mood due to a lower level of sunlight 
Changes in your melatonin level.  Melatonin is a hormone affects the body's sleep patterns and can be disrupted due to the change in seasons 
Notably, SAD is more common in women than in men (three out of four sufferers of SAD are women), and more common in people living far from the equator where there are fewer hours of daylight in the winter.  SAD can strike at any age, but it typically starts when a person is between the ages of 18 and 30.
When Should You See Your Doctor About Seasonal Affective Disorder?
We all have down days, but if you feel down for days at a time and can't get motivated to do what normally brings you joy, consider seeing your doctor. This is especially important if your sleep patterns and appetite have changed, or if you feel hopeless or have thoughts of suicide.  Seasonal Affective Disorder can be effectively treated in several ways, including light therapy (using a light box or a dawn simulator), antidepressant medications, talk therapy, or a combination of these.
If you require immediate mental health assistance, please contact:
Here 24/7: 1-844-437-3247 for crisis support and referrals (Waterloo Region)
St. Leonard's Community Services: 1-866-811-7188 for immediate telephone crisis counselling (Brantford/Brant County)
Good2Talk: 1-866-925-5454 for telephone counselling and referrals (Ontario-wide)
Mental Health Hotline: 1-866-531-2600
Crisis Text Line: text "HOME" to 686868 (Canada-wide)
Top Tips for Surviving Seasonal Affective Disorder
Get as much natural sunlight as possible.  We recommend getting outside within an hour of waking, keeping the curtains open, or moving furniture closer to windows to increase your exposure.  Remember that you can still get a sunburn in the winter, so be sure to slap on your SPF! 
Exercise regularly.  Find ways to move your body that feel good for you!  Try to make a habit of taking a daily noon-hour walk, particularly if you commute to school or work in the dark hours of the day (or if you don't have to go out at all because you are studying remotely).  Physical activity relieves stress, builds energy, and increases both your physical and mental well-being and resilience.
Reach out to your support networks – Virtual connection is still connection! Ask for support when needed and accept help when offered.
Eat regularly.  Try scheduling meal breaks into your day to keep your blood sugars stable, which helps with mood and energy management.
Take steps to deal with stress.  Practice relaxation techniques like deep breathing, talk it out with a friend or counsellor, and make time for fun!
for a printable copy of this article or the list of references, please email wellness@wlu.ca