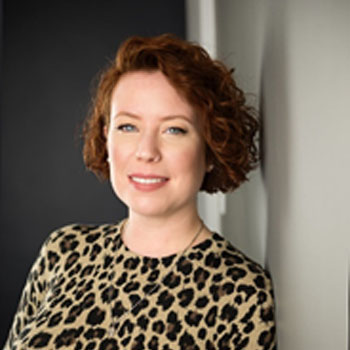 Job Developer (Global Studies, BA)
Laura Ashfield, Job Developer, The Working Centre
By: Alexandra Fedorenko, Career Centre Peer

Laura Ashfield went on a unique journey to discover her passion for employment services. Although she always knew that she was interested in the non-profit, social sector, Laura did not expect to become a Job Developer. Laura began her academic career by attending Wilfrid Laurier University for the Global Studies program and graduated in 2009. She then went on to obtain her Masters in Immigration and Settlement Studies at Ryerson University and completed a Post-Graduate Certificate in Community and Social Service Management at Conestoga College.

Throughout Laura's educational journey, she had entertained the possibility of doing policy work, peace and security research or working overseas with refugees. Laura gained a lot of practical experience and transferable skills while working as a Community Development and Resource Mobilization Coordinator with the United Way and volunteering as a Social/Legal Support Volunteer at the Mennonite Coalition for Refugee Support. Eventually, Laura took a friend's suggestion to apply to The Working Centre, which is a non-profit organization committed to capacity-building and was founded in response to poverty and unemployment. In some ways, serendipity led to her current passion for employment services.

The qualifications for a position such as a Job Developer vary between organizations. From Laura's experience, some organizations require you to have a Career Development Practitioner Certificate to qualify for a position. However, transferable skills are highly relevant in employment services and having an educational background in Immigration and Settlement has been as asset for Laura as many of her clients are newcomers to Canada. As a Job Developer, Laura has a variety of tasks that she completes in a day. Her main task is to connect job seekers to employers to foster job placements. A typical week could consist of meetings with job seekers, conducting mock interviews, meeting with youth to explore their career options, as well as keeping track of program budgets and staying updated on file notes and paperwork. Laura's work is often conducted individually, however, there is a team aspect to it as well. The best part of Laura's job is connecting with people on a daily basis. She particularly enjoys working with youth and loves seeing the progress they make throughout their work placements.

Despite the rewards, all careers do come with challenges and Laura admits that her job can be difficult at times due to the nature of the existing labour market and the employment barriers that her clients face. To overcome these challenges, a person working in this field must be persistent and have a positive, resilient attitude. Having problem-solving skills proves to be beneficial when navigating through daily problems and learning how to utilize the resources available within the community. Likewise, soft skills are equally important, in particular, communication skills. In addition, having an extroverted personality is particularly useful in a Job Developer role as you meet and are coaching/advising many new people every day and must be comfortable approaching employers and sparking a conversation.

Other fields of consideration one could pursue that are related to the work of a Job Developer are being a Career Advisor in post-secondary setting or with private sector companies that support people during periods of unemployment (for example, as part of their lay-off package or benefits). Working in Human Resources or within a recruitment/talent management role is also something one could consider.

Laura highly recommends students interested in this field to utilize LinkedIn and not only have a profile but actually use the system to reach out and connect with people. Another useful resource is the Workforce Planning Board of Waterloo Wellington Dufferin, which provides insightful research on local employment trends. Keeping up with labour market trends and understanding how technology is redesigning jobs is an essential part of the role. Laura advises students to gain practical experience through volunteering. She suggests they research what non-profit organizations are of interest to them, and volunteer. If Laura could bestow some wisdom to her younger, student self she would pursue a second language as possessing a second language would make her current position much easier. Laura loved and greatly valued her time at Laurier and believes the role university played in her own growth and skill development was invaluable.