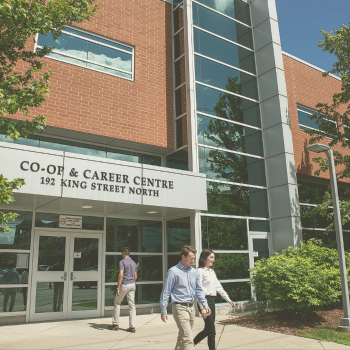 Secure your summer job
Make the process of securing summer employment more efficient and successful by following this advice.
Present a Strong Resumé
Your resumé is often the first contact you make with a potential employer. Consider the following as you apply to jobs.
Tailor your resumé to the job highlighting your most relevant skills. You'll see better results than using the same resumé for every application.
Be creative and stand out. Try a unique header or professional template and elaborate your unique qualifications in your cover letter.
Proofread! Simple spelling mistakes happen, but you can catch them instead of the employer. Ask a friend to proofread your application or utilize the Career Centre proofreading service after a resumé appointment.
Ask for feedback. Options may include friends, family, professors and always the Career Centre! Email your resumé to careercentre@wlu.ca or careerbrantford@wlu.ca for tips and feedback in your inbox within 48 hours.
Attend a resumé writing workshop and view our resumé guidebook and additional resources on Navigator.
Know What Jobs are in Demand
Understanding what is happening in the current employment market can inform your job search. Labour market information can help you determine what skills are in demand and what sectors, industries and occupations are growing. Here are a few resources to assist your research.
Utilize Your Network
You may have employer connections through current/previous jobs, recruiting sessions, classes or club activities. This is a great start, but don't forget about the possible employee network right around you. Parents, neighbors, professors, friends (and their parents) may know organizations that typically hire for summer positions. Make it known to the people in your circles that you are looking for a job. Come from an angle of curiosity and interest and ask questions. You may be surprised by what you learn, and at the very least, you can refer to these connections for future use.
Build a Long-Term Career Perspective
The Career Centre operates throughout the year, making spring and summer an excellent time to consider longer-term goals and explore your options. Career planning appointments and workshops can provide insight into your career values and options that fit your personality and credentials. Having a goal to work towards can also help you take small steps to focus your skills, build your network and add to your resumé through extra-curriculars.
Finally, remember that you gain valuable competencies through paid and volunteer experiences. These may include adaptability, problem-solving, collaboration, intercultural understanding, communication and critical thinking. With a little reflection, you can effectively articulate your competencies and skills to potential employers. Reviewing your Laurier Experience Record is a great exercise to start this process.
Put yourself out there confidently. Lean on those around you. Keep an open mind. Opportunities don't just happen; you create them!