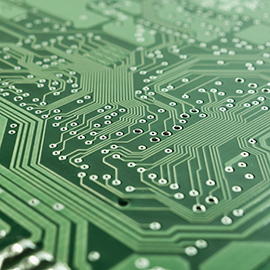 Laurier Co-op Students Thrive in the Tech Industry
When you think of the tech industry, you might picture whiz kids coding intently, or taking a break to play foosball and ping-pong. Waterloo Region's lively tech industry certainly includes many software developers in start-ups, but the industry provides co-op students with a wide range of options.

While pursuing a double degree in Business and Computer Science, Richard Hugessen sharpened his coding skills during two terms as a software developer at Shopify Plus, in Waterloo. "The culture was amazing," says Hugessen. "Shopify prides itself on its open and casual culture."

Hugessen had dreamed of working in Silicon Valley, and for his final work term, he landed a job on the identity verification team at Coinbase, a start-up based in San Francisco. His primary project was to help develop a feature within isolation in the company's code base. "I created a little piece of code that would process a person's driver's license to verify their identity," says Hugessen. "This code would shrink down images that were too big when uploaded so they could be processed." Hugessen enjoyed his experience so much that he plans to work in the Valley again after graduating.

Not everyone in the tech industry is developing code. "People need to get over the misconception that only computer science students work in tech," says Jessica Li, a third-year Psychology student. Although Li had not imagined herself in a tech role, she spent her first work term testing artificial intelligence software at Wysdom.ai. As a client success analyst, Li analyzed data to ensure the software would answer online questions from customers for clients such as Fido and Virgin Mobile U.S. "I study how people think and behave," says Li, "so it was interesting to observe people trying to make a computer think like humans." Once Li was comfortable with the backend work, her role expanded to include meeting daily with American partners.

Chris Walker, opportunity development manager at Axonify, agrees with Li that the tech industry is diverse, saying "The great thing about tech is that employers are looking for a wide variety of skill sets, experiences and abilities." Walker also notes that the integrated nature of the tech industry means that people can change positions within a single company, or move to other companies. "There is an opportunity to get exposed to a wide variety of functions in the business," he says. "You can see what you are good at, what you like and what you see yourself doing in the long term."

Axonify has almost doubled in size since Walker, a graduate of Laurier's Political Science program, began working there four years ago.  He had not initially planned to make a career at Axonify, but the company's growth led to the creation of new positions and his promotion to a management role. Walker hires co-op students from Laurier regularly, and he strives to ensure that employees get a productive experience and build their skills.

As the experience of Hugessen, Li and Walker shows, the local tech industry offers a surprisingly wide range of opportunities to students from diverse backgrounds.