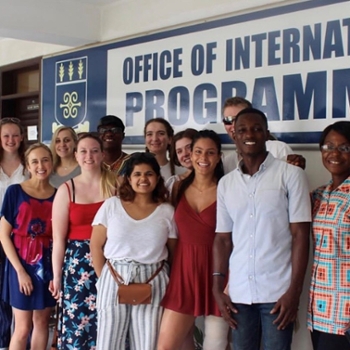 Laurier celebrates Ghanaian culture in recognition of the contributions of the multilateral Laurier-Ghana Partnerships
A limited number of tickets are still available. You can request yours by emailing Jennifer Will at jewill@wlu.ca.
On Wednesday, Oct. 9, in honour of the many reciprocal relationships Laurier has built with Ghana partner organizations, Laurier International and the Faculty Leads of the Queen Elizabeth II (QEII) Diamond Jubilee Scholarship Program will host a Ghana Culture Night celebration to recognize the reciprocal benefits that are products of Laurier's long-term engagement in Ghana. The guest of honour at the event will be H.E. Mr. Ayikoi Otoo, Ghana's High Commissioner to Canada.
Invited guests will gather in Brantford for an evening of Ghanaian musical performances, a traditional Ghanaian meal, a keynote address from Mr. Otoo, and storytelling presentations from Queen Elizabeth scholars, with Robert Ame, associate professor, Human Rights & Human Diversity and Criminology, serving as master of ceremonies. Laurier's 2019 Queen Elizabeth scholars will attend, providing guests the opportunity to connect directly with the scholars to learn more about their experiences and the opportunities presented through the Queen Elizabeth Scholars program. 
Musical performances will be rendered courtesy of Laurier Community Music students who participated in a faculty-led field course in Ghana this past summer. As well, Professor Esther Acolatse, from the University of Toronto, will sing and lead participants in singing Ghanaian patriotic songs.  
"A key requirement of the QEII funding is that we facilitate the development of a network of QEII Scholars," said Andrew Robinson, associate professor and program coordinator, Human Rights & Human Diversity. "When the Laurier interns arrive in Ghana they spend a day socializing with present and former QEII Scholars from the University of Ghana. The Ghana Culture Night provides one of several opportunities for the Laurier interns to continue and deepen their connections to and with the Ghanaian graduate students."
The QEII program provides funding for about nine Laurier undergraduates to travel to Ghana in the summer to perform 90-day internships with organizations in the capital, Accra, and for three to five graduate students from the University of Ghana to travel to Canada to study at Laurier each fall.
"This has been a truly bi-directional partnership involving the movement of students from and to both countries, which has not been the case in many other so-called university 'exchange' programs where only students from the Global North travel to the Global South," said Ame. "This makes the Laurier-Ghana Partnership a unique program among other exchange programs globally. I am proud to be part of such an exceptional partnership." 
The Laurier-Ghana Partnership dates back to 2011/12, when undergraduates from the Human Rights & Human Diversity and Global Studies programs began traveling to Ghana for three-month internships at a variety of non-profit organizations that focus on human rights promotion and development. In 2015, funding through the Queen Elizabeth II Diamond Jubilee Scholarships Program Laurier-Ghana Partnership for Human Rights allowed Laurier's departments of Human Rights & Human Diversity, Global Studies, Criminology, and Social Work to expand partnerships in Ghana to the University of Ghana. In 2018, Laurier received a new round of funding from the Queen Elizabeth Scholars program, adding the Faculty of Music as the newest internal partner, allowing more Laurier students to participate in summer internships in Ghana and graduate students from the University of Ghana to study at Laurier until 2021.
The Canadian Queen Elizabeth II Diamond Jubilee Scholarships (QES) program is managed through a unique partnership of Universities Canada, the Rideau Hall Foundation (RHF), Community Foundations of Canada (CFC) and Canadian universities. This program is made possible with financial support from the Government of Canada, provincial governments, and the private sector.
Th year's Ghana Cultural Night will take place at One Market, 1 Market St., Brantford, Ontario, on Wednesday, Oct. 9, from 5 to 8 p.m.