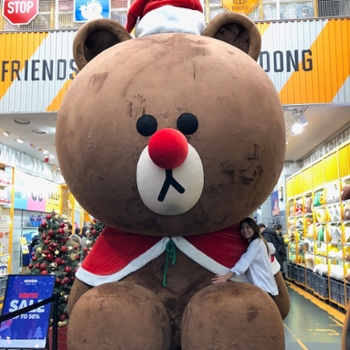 An unforgettable experience while on exchange in South Korea
Crystal Li studied at Ewha Womans University in Seoul, South Korea, for the Fall 2018 semester. She is a Finance student, with a minor in Economics, on the Waterloo campus.
I chose to study abroad because I wanted to see the world. I wanted to be immersed in a language and culture, to live like a local, and to gain cross-cultural awareness and understanding. By going on exchange you gain many benefits, the first being educational benefits. I was able to learn about my business degree in a new and different perspective that I was not exposed to at Laurier. I was also able to gain more knowledge and understanding of global issues.
The second was a personal benefit for myself; I was able to experience and mature through challenges as I was taken out of my "comfort zone" and had to learn to depend on myself.
Lastly, I gained career and future study benefits as I became more aware of different career options that I did not know of before exchange, which gave me more insight into what I wanted to do for my career. Nowadays, more companies want applicants with international experience, language skills and who have the ability to adapt to change. From my exchange experience, I can demonstrate what makes me different from other applicants with my new and refined skills.
My first two weeks in Seoul were the most difficult as I faced homesickness and culture shock. South Korea is known to have distinct cultural customs with many unspoken rules. I tried my best to prepare for this through research and advice from friends who also went to South Korea for exchange, but once I started interacting with the locals I had completely forgotten everything I researched.
The language barrier made it harder to communicate, as many of the locals did not speak English. Fortunately, I downloaded the offline version of the Google translate app to help me communicate; you can type, voice record and take pictures of signs which can be translated into English. My main concern was to ensure that my habits and mannerisms did not offended any locals, but I did not have to worry, as many Koreans were more than willing to help me in any situation.
The feeling of loneliness and alienation vanished once the semester started. I started making friends and took Korean classes to learn beginner-level Korean. I became more involved in university events and explored the different cities in South Korea. As the semester went on, I began to enjoy my exchange as I became more familiar with Korean culture and behaviours. I learned to be more opened-minded to different cultures and to know that everyone adjusts to a new setting differently.
Throughout the entire year South Korea has many events but fall season peaks with tourists, as they all come to see the leaves change colour. In Seoul, fall seems to occur at a slower pace with more vibrant leaves of different shades of orange and red in comparison to Canada. I also believe, because of the cool and crisp weather, that more events occur in the fall, such as firework festivals, Jinju Namgang Yudeung (lantern) festivals, beer festivals, K-pop concerts and the list goes on.
There were many activities to do and places to explore with friends, and ways to experience Korean culture, which I took advantage of whenever I did not have exams or class. There was always something going on in Seoul every weekend.
For those who are unsure about travelling to South Korea, don't be; it offers the experience of being in a new country without being totally unfamiliar, since the country is extremely developed. At Ewha Womans University, they really try to integrate international students to the university life by organizing buddy programs. We are partnered with an Ewha student who takes us on field trips and casual lunches to meet other students, experience the Korean culture and try the countless variety of foods.
Through my buddy I was able to familiarize myself with Seoul faster than expected. It also helped that the Seoul metro system was easy to understand, as the subway signs were in English. Seoul is also probably one of the safest cities I have ever been to. Many restaurants, coffee shops and convenience stores are open for twenty-four hours, which will come in handy for your late-night ramen runs.
Studying abroad in Seoul has been one of the most transformative and unforgettable experiences in my life. Any opportunity to travel is great, but the opportunity to live and learn in a foreign language is priceless.
As cliché as it sounds, it truly is the people you meet that will define the good times and make those memories last a lifetime. I hope that one day I can return to South Korea to relive those moments and that my story encourages more students to take advantage of the exchange opportunity while they can.
You just need to take that first step because you never know where it will take you.