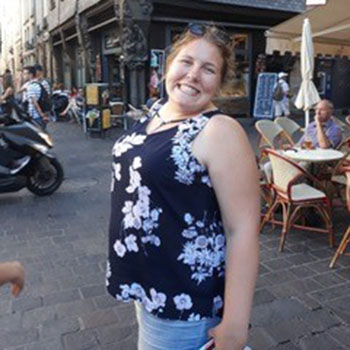 The life-changing magic of going on exchange
Hannah Weaver studied at Université François-Rabelais (now Université de Tours) in Tours, France during the Fall 2018 semester. She is a fifth-year Concurrent Education student on the Brantford campus.
I always dreamed about travelling across Europe one day after graduation. Little did I realize I could do this in university and earn credits towards my degree at the same time through the Laurier International Student Exchange Program! Now that I am home, I definitely realize that this was my time to come out of my comfort zone; it was truly a once-in-a-lifetime experience that I will reflect on for the rest of my life.
I decided to study abroad as I wanted to see a different part of the world, enhance my second language, and be given the opportunity to participate in a new culture. An exchange program was the way to achieve this, since this type of experience would not be possible as a tourist. Before leaving, I simply thought exchange would be going to school in a foreign language, and doing some travelling on the weekends. I now realize it is much more than that. I have increased my independence, self-growth, and self-confidence, and learned how to problem solve.
Before I left for France, I had absolutely no idea what to expect considering I had never travelled by myself before, let alone lived in a country where English wasn't the predominant language. I'll be completely honest: the first day the culture shock hit abruptly. After landing in France that day, I jumped into the challenge and realized that, after some time for adjustment, it really wasn't that bad after all.
I studied at Université François Rabelais in Tours, France. As an exchange student, I was able to experience the differences and similarities of how professors taught at my host institution compared to Laurier, as well as how the education systems are different in Canada and France.
Studying in a new country has improved my time management, communication, and study skills so that I am able to continue to succeed at Laurier and in my personal day-to-day life. I truly recognize and appreciate the professors who taught me. They helped me succeed abroad and gave me the assurance that I can overcome the adversity of studying in a second language. The bonds I made with new classmates that I met from around the globe was one of the benefits this program offered, bringing us very close over the course of the semester as we were all on this new and exciting journey together.
While living abroad for four months, I developed skills that allowed me to balance work and play. I was able to complete my schoolwork during the week and travel on the weekends and during Reading Week. I practiced budgeting money so that I could still do the travelling and discoveries that I wanted to, and finance my day-to-day school life. I learned skills that I will benefit greatly from in the workplace and my life continuing forward, including paying rent, bills, buying groceries, and cleaning independently.
When I first looked into applying for the exchange program, I was reluctant and thought it wasn't for me considering how big of a leap it would be out of my comfort zone. After making the decision to participate, I could not be happier. It was a huge life change and frightening in the beginning. Once I arrived, I found my groove like I did when arriving at Laurier. My biggest regret would have been deciding not to do an exchange.
I've been asked so many times what my favourite memory was from the program. I think it is truly impossible to summarize an experience like this into a few sentences. I experienced and created so many memories along the way that it would be impossible to choose just one. I have appreciation for Laurier International and the exchange program that gave me the opportunity to try something new, something that I would never be able to do outside of university.
The program changed my outlook. I see the world differently since I was able to experience a culture that is different from what I am used to. I would encourage everyone to make this life-changing decision because, ultimately, it is the best of both worlds: you have the opportunity to travel and go to school at the same time! My biggest fear was how my life at Laurier would change after being gone for a semester. Now I am happy to say I am picking up at Laurier exactly where I left off.
Honestly, for me, the most challenging part was applying, since there are many parts to the application and it was different from what I was used to. If you take it one step at a time and give yourself extra time it will work! Don't be afraid to ask for help; there are people willing and ready to help you. The Laurier International staff are wonderful if you do need assistance during the application process. My host institution was also very helpful on the other end for exchange students.
This sounds cliché but it's definitely true: after being on exchange for four months, I think that I will never be completely at home again. Part of me and my heart will always be in France where I made so many amazing memories and friendships that I will hold onto for the rest of my life.
This program has so much more to offer than one would think so I hope that you consider applying.