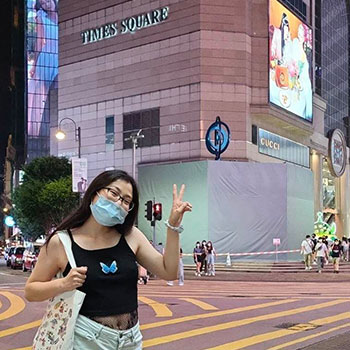 Student Gains New Perspectives While on Exchange
Amy Zhou travelled to Hong Kong University of Science and Technology (HKUST) on exchange for the fall 2022 term. She is in her fourth year of the BBA program and is now wrapping up her degree. At HKUST, she experienced a vastly different life from one she had in Canada, and for the best.
Exploring an Affordable and Unique Opportunity
When asked why she chose to go on exchange, Amy says, "There wasn't a specific reason why I wanted to go." Unlike many students who dream of exchange from their first year of university, she only found out about the opportunity three weeks before the deadline to apply. She says, "Exchange is a unique opportunity. It's more affordable to do exchange through school than go abroad after graduation. And I don't know if I'd get the opportunity to go for that long of a period again."
Hong Kong is considered a non-traditional exchange destination. When asked why she decided to choose Hong Kong specifically, Amy says, "Since I was going abroad for four months, why would I want to go somewhere that's just like Canada?". The different culture was a major factor, but there were others such as the travel opportunities around Asia such as Japan, South Korea, Singapore, and Indonesia. "Flights are less than five hours, and you can spend a whole weekend there or longer," she says.

Get Out of Your Comfort Zone While on Exchange
Amy recommends getting out of your comfort zone while on exchange. She says that because Laurier is a predominantly white school, white students can be intimidated by the language and culture barrier. She says, "Going to a place where you're not the dominant ethnic group can be a challenge for many Laurier students. It's good practice to go somewhere that's very different from Canada." She mentions that people in Hong Kong are genuinely nice and understanding. The language barrier can be overcome quickly as every student at HKUST speaks English and is very nice and welcoming.
While on exchange, Amy says, "Do what you want. Even though there is pressure to go out and do what the group is doing, I would actually advise against that if it's not what you want to do." She recalls a story where she went to a fishing village alone and spent the day eating fish and drinking milk tea alone. She says that it was one of her fondest memories in Hong Kong, as going alone allows you to better take things in. She also says, "You don't have to see everything. There's so much to do and some things you just won't have the energy to do." Mental health does not leave you when you travel abroad, so it is important to know what is healthy for you.
Amy met other students abroad by joining Facebook groups. She found a LGBTQ+ group chat, which is where she made the majority of her friends. At HKUST, she met her boyfriend. After briefly meeting at school, they had several run-ins on online apps, where they became closer and developed feelings for each other.
Amy mentions important information about culture. "Be mindful if the cultural difference is high. Be respectful. As an exchange student, you're going to be more privileged than others, so understand the position that you hold. It would be rare for an exchange student to be targeted or attacked." She brings up good points about how to treat others. "Do research on what is considered polite. Learn the language or at least the basics so you can communicate with service people." She recommends applying for the non-traditional GSO (Global Skills Opportunities) funding scholarship. While she did not apply for it, she looks back and thinks that it could have really helped her.
Anyone thinking of going on exchange should do it because you do not want to miss out on all the world has to offer.
Gain New Perspectives Through Exchange
Now that she is back in Canada, she realized that going on exchange allowed her to gain new perspectives. She says, "You realize none of this really matters – all the stress and problems you have in Canada. Once you leave and then come back, you realize it isn't as big of a deal. You stop caring what people think." She also says she gained more awareness, more critical thinking, and self-fulfillment.
Overall, Amy had a very enriching experience in Hong Kong. She experienced a new culture, made friends, and learned more about herself and the world around her. She recommends that anyone thinking of going on exchange to just do it, because you do not want to miss out on all that the world has to offer.