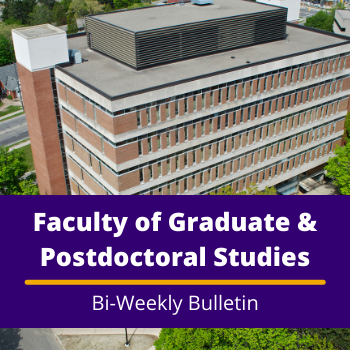 Bi-Weekly Bulletin Oct. 22, 2021
THRIVE Week 
This Fall, Thrive will be taking place October 25-29. The goal for Thrive is to help our Laurier community reflect, reset, and reconnect after such a challenging year apart. We aim to provide all students with opportunities to reflect on what we have learned, reset our mindset and routines, and get excited to reconnect with our campus community in a safe way. We are looking forward to hosting a mix of in-person and remote opportunities to connect with each other and learn more about what it means to Thrive at Laurier.
Funding & Scholarships
Find more information about graduate funding and research scholarship opportunities at Laurier. 
Social Justice & Solidarity Week 
Social Justice and Solidarity Week at Laurier is an annual event that showcases work from in and around the Laurier community that notions of equity, diversity, inclusion, and decolonization. In particular, it emphasizes advocacy, solidarity efforts, human rights and social justice issues that have implications locally, nationally, and/or globally.    

The inaugural launch of Social Justice & Solidarity Week at Laurier will take place from October 25th to 29th, 2021 with the overarching theme of "Treaty Recognition, #LandBack, and 'Reconciliation'. This series of virtual events is designed to provide opportunities for members of the Laurier community to engage, learn, and reflect on issues tied to Treaties Recognition Week (November 1 – 5, 2021) which was passed by the Ontario legislation in 2016 in an effort to rebuild trust and relationships with Treaty partners and First Nations, Métis, and Inuit peoples  

Registration is open to the Laurier community and members of the general public. More information about specific events, invited speakers and panelists, and registration details can be found on the Equity, Diversity and Inclusion webpage. 
59th Annual CAGS Conference
The Canadian Association for Graduate Studies (CAGS) is excited to host its 59th Annual Conference, to be held in a virtual format from November 1st to 5th, 2021. For nearly sixty years deans, associate deans, administrators, faculty members, postdoctoral fellows, and graduate students have gathered at this annual conference to learn and share ideas about the improvement of graduate studies, research, and administration. The title of this year's conference – Care, Social Justice, and Inclusion in Graduate Studies – reflects a vibrant and forward-looking vision of the future of graduate education in Canada.
Coming Soon
The Student Wellness Centre is excited to announce that a new graduate student wellness webpage is in the works and will be launching soon! This webpage will list all upcoming graduate students only events. It will also have information about wellness and wellbeing, including, wellness strategies and finding wellness resources in your community. 
Keep an eye out on the Student Wellness Centre's Instagram account for the link to the graduate student wellness webpage! 
GSA Blood Donor Clinic
Join Laurier students and staff for a Graduate Students' Association hosted (Halloween themed!) blood donor clinic on October 28th!
Book your appointment at http://blood.ca
Select "Canadian Blood Services, KW"
Choose October 28th 
Instructional Drop-In Sessions
The Research Ethics Board is happy to announce that they will be offering instructional drop-in sessions over Zoom on Tuesdays from 2 p.m. to 3 p.m. from October 26 until December 21, 2021.
Please note that you must be signed into Zoom to attend. You can ask any questions about the following topics
How to register for ROMEO
How to submit a new ROMEO application
How to resubmit a revised ROMEO application after it has been reviewed
How to submit a modification request
General ethics guidelines and questions
Tips for an efficient review & more
Aspire Spotlight
ASPIRE is a professional skills development training program for graduate students and postdoctoral fellows at Laurier. ASPIRE provides a framework to help you craft an individualized, extracurricular learning plan tailored to your professional journey and entry to the workplace.

Through lectures, group work, workshops, intensive seminars and one-on-one consultations, ASPIRE supports your professional development throughout school along the way to your chosen career path.  
Upcoming Workshops
Oct 25 & 27
Oct 27
Oct 29
Nov 2
Nov 5 
Student Reminders
The Faculty of Graduate and Postdoctoral Studies Office has a few reminders for Graduate Students.
LORIS Account
Don't forget! Students should ensure their Loris account is up-to-date in the Personal Information section including name, mailing address, phone number and personal email address.
MyLaurier Email
Just a reminder to please use your MyLaurier email accounts for university-related emailing purposes. It is always helpful for students to include their full name and student ID number when emailing. Your MyLaurier email account is also an official way for the university to communicate with you. 
Glebe Centre Virtual Breakfast
Join us for the sixth annual breakfast hosted by the Delton Glebe Counselling Centre, a community service provided by Martin Luther University College.
Topic: Resilience and Recovery to Thrive 
Date: Wednesday, October 27, 2021 at 8am to 9:30am. 
Featuring: A musical prelude by Gerard Yun, Faculty of Music 
Cost: $50 per person or $360 for a group of 8
Important Upcoming Dates
October 18-22: Academic Integrity Week. Laurier cultivates a culture of academic integrity by empowering students to act with integrity in their course work and research. When you choose to act with integrity in your academics, you know that your work is your own, you earned the grades you received, and you can be proud of your degree. Remember to act with integrity all year long. 
November 5: Spring 2022 Graduation Applications open
November 10: Last day for withdrawing without failure from fall term courses (students enrolled in programs where fees are based on course load) or from the graduate program and for possible tuition adjustment (tuition charge assessed at 55%)
Note: Students who withdraw from the graduate program must complete the Request to Withdraw from Graduate Studies Form.
November 10: Final day for submitting final (post-defence) copies of dissertation/thesis/major research paper (if applicable) to Scholars Commons, and receipt in the Graduate & Postdoctoral Studies Office of signed program/defence documentation for possible tuition adjustment (tuition charge assessed 55%)