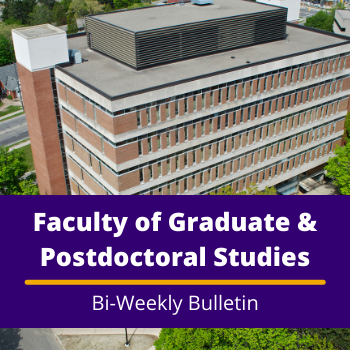 Bi-weekly bulletin Oct. 8, 2021
Upcoming Scholarships
No matter what type of graduate program you are pursuing, financing your graduate education is one thing we all have in common. Find the scholarship that is perfect for you and take a look at all the upcoming scholarship applications that are currently open.
International Internship: As part of its commitment to support the development of the next generation of space professionals in Canada, the Canadian Space Agency (CSA) participates in the NASA I2 Project. Through its participation, the CSA may nominate highly qualified university students who may subsequently be selected by NASA to participate in internship projects along with U.S. students and students from abroad.
Eligible candidates for this scholarship are full-time graduate students enrolled in year one of a master's or doctoral program. Candidates must demonstrate exceptional academic achievement. Candidates must also demonstrate a high level of commitment to, and leadership in, volunteer work undertaken at university or in the wider community. Finally, candidates must demonstrate substantial sensitivity to environmental concerns through active participation in paid or voluntary activities related to the environment or through the focus of previous or current academic work. 
Eligible applicants must submit a completed application package via email to their Graduate Program Coordinator no later than Oct. 25, 2021.
This three-year leadership program is designed to train Engaged Leaders, equipping outstanding doctoral candidates with the skills to translate their ideas into action for the betterment of their communities, Canada, and the world. Applicants apply directly to the Trudeau Doctoral Scholarship competition via the Trudeau Foundation's web site.
The community of women's health scholars fostered by this Awards program will excel in the creation of new knowledge about women's health and its translation into improved health for women. The applicant will be interested in more effective health services and products for women, and a strengthened heath care system. Deadline for applicants to submit their complete application package electronically to the FGPS at fgps@wlu.ca is Dec. 1, 2021.
The community of autism scholars fostered by this Awards program will excel in the creation of new knowledge of child autism, and its translation into health care for children, more effective services for children with autism , and increase the province's capacity for diagnosis and assessment of autism and a strengthened treatment system. Deadline for applicants to submit their complete application package electronically to the FGPS (fgps@wlu.ca) is Dec. 1, 2021.
Eligible candidates for this scholarship are female students who have been admitted to a graduate program in the Humanities or Social Sciences. The research project undertaken by candidates must focus on Canadian issues, which may include comparative studies between Canada and other countries. Graduate programs with a required research project (i.e., thesis/MRP/dissertation) are invited to nominate one eligible candidate who entered the graduate program in September 2021, regardless of degree level to the FGPS for this award. Interested applicants should express their interest in this opportunity with their Graduate Program Coordinator.
Fall Term Master's Scholarship Competition
Don't forget! We will be offering a live Zoom session to provide an in-depth overview of the Canada Graduate Master's Scholarships including: CIHR, NSERC, SSHRC and the Ontario Graduate Scholarship competitions. Please note: in order to join the session, you will need to use your Laurier Zoom account.
Event Details
Event: Master's Scholarship Competition Information Session with Question & Answer Period 
Date: Oct. 19, 2021
Time: 2:30 to 3:30 p.m. Montreal
Via Zoom
Join Zoom Meeting
https://wilfrid-laurier.zoom.us/j/91946611343
Meeting ID: 919 4661 1343
One tap mobile
+14388097799,,91946611343# Canada
+15873281099,,91946611343# Canada
Dial by your location
        +1 438 809 7799 Canada
        +1 587 328 1099 Canada
        +1 647 374 4685 Canada
Research Theme Ambassador
Jonathan Newman, Laurier's vice-president: research, is recruiting graduate students to fill new Research Theme Ambassador positions for two of Laurier's six research themes: Environments and Sustainability and Society, Culture and Community.
Responsibilities of a Research Theme Ambassador include:
Meeting regularly with individuals and groups of graduate researchers to stay abreast on their work
Identifying and promoting scholarly outcomes
Identifying individuals and/or groups of researchers to nominate for internal and external research awards
Representing their research theme at public events 
An honorarium will be given to each student ambassador. If you are a research-based thesis student interested in this opportunity, please send your CV to Nick Skinner, research communications officer, at nskinner@wlu.ca.
Get to Know Series
Every Friday over lunch hour, Jonathan Newman, Laurier's vice-president: research, speaks to a faculty researcher about their origins, their personal triumphs and their latest findings.
Every Friday from 12:15 to 12:45 p.m via Zoom 
Oct 15 Session with Sepideh Yeganegi
Sepideh Yeganegi is an assistant professor of Policy at Laurier's Lazaridis School for Business and Economics. Her research focuses on spinouts, independent businesses founded by ex-employees. Spinouts are a prevalent and successful form of entrepreneurial entry and play a key role in pursuing new technologies that parent firms avoid due to low margins or incompatibility with the parent firm's core business. Yet, parent firms may perceive spinouts as plunderers of their knowledge and innovations and therefore use institutions such as intellectual property rights and non-compete agreements to suppress or otherwise shape them. 

For more information, or to register visit the Research webpage.
About Aspire
ASPIRE is a professional skills development training program for graduate students and postdoctoral fellows at Laurier. ASPIRE provides a framework to help you craft an individualized, extracurricular learning plan tailored to your professional journey and entry to the workplace. Through lectures, group work, workshops, intensive seminars and one-on-one consultations, ASPIRE supports your professional development throughout school along the way to your chosen career path. 
Upcoming Workshops 
Oct 15 Finding Government Policy & its Analysis
Oct 19 Intro to Scoping
Oct 21 Performance Anxiety
Oct 22 Marketing Your Transferable Skills
Check out this interesting read
I felt I didn't have much to lose. During our weekly Zoom call, my Ph.D. adviser told me another professor in the department needed students to work on urgent COVID-19 research projects. "Would you be interested?" she asked. I didn't hesitate. The first 3 years of graduate school had felt like an endless struggle. After a string of failed experiments, I had little to show for all my hard work, and my enthusiasm for research was quickly eroding. I didn't know where the new project would lead me—but I knew I needed a change.
Continue reading.
Important Dates
Oct. 11: Thanksgiving (University Closed) 
Oct. 12: Reading Week. 
Nov. 10: Last day for withdrawing without failure from fall term courses (students enrolled in programs where fees are based on course load) or from the graduate program and for possible tuition adjustment (tuition charge assessed at 55%)
Note: Students who withdraw from the graduate program must complete the Request to Withdraw from Graduate Studies Form.
Nov. 10: Final day for submitting final (post-defence) copies of dissertation/thesis/major research paper (if applicable) to Scholars Commons, and receipt in the Graduate & Postdoctoral Studies Office of signed program/defence documentation for possible tuition adjustment (tuition charge assessed 55%)