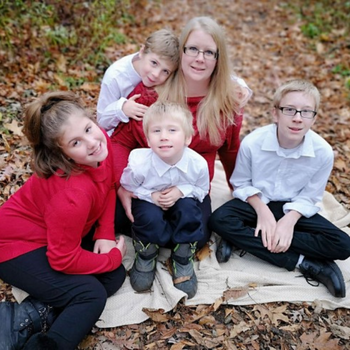 Laurier student Clarissa Kurzawski balances her master's degree and parenting as a single mom of four
Life as a full-time graduate student can be demanding, but it can be even more demanding when trying to complete your studies as a single mother of four. It's a lifestyle that Carissa Kurzawski (BA, 2021), a graduate student in Wilfrid Laurier University's Master of Arts program in Criminology , knows well.
"It's a different experience doing a master's degree with kids," says Kurzawski. "But I don't know another lifestyle; I just know this one".
Laurier's master's program in Criminology is a two-year research-intensive program that develops students' expertise in quantitative and qualitative research methods. Through course seminars and thesis research, the program provides knowledge and training in the fields of criminology and criminal justice.
Below, Kurzawski discusses her experience as part of Laurier's Criminology program, and how she balances her time as a full-time graduate student and single mother.
What is it like being a single mother of four while completing your studies?
I started with my Bachelor of Arts degree at Laurier when my youngest child started kindergarten, so it helps that the children are all in school. I'm not sure it's harder than the average student experience, but it is definitely different. I can't stay up until four a.m. working on a paper and sleep until noon. I need to get my kids up and off to school and then pick them up when they're done. I really try to get as much work done as possible during their school hours, so that I can spend my evenings with them.
It was really rough finishing my bachelor's degree during the early part of the COVID-19 pandemic as the schools were closed and my children were home. As a single mother of four, completing a bachelor's or master's degree can be a difficult task to complete, but I think it just takes organization and the drive to want to complete it.
There is so much unpredictability when attending university as a parent. Your kids get sick, they have appointments, or the school needs to meet with you – there are so many situations that pull you away from your work. It's a different experience doing a master's degree with kids. It feels like the work never ends and housework and chores can only be neglected for so long. This is where organization comes in handy. I do laundry while reading papers, I draft thoughts while cooking dinner, and I make use of the office space Laurier provides to get work done during the day.
Tell us about your research.
I am finishing up my final year in the program and am currently working on my thesis. My research is about the experience of those who were in child protection services and crossed over into the criminal justice system.
I adopted my middle two children, who were in the care of child protection services. So far, they have avoided the criminal justice system. I want to help all the kids out there that didn't have the best start in life, but reality says I cannot bring them all into my home. The only way to help these kids have a good start in life is to complete my master's degree and move onto my Ph.D. I want to teach adults about crossover youth and get more people advocating for them.
The thought of being able to help and advocate for as many children as I can is what keeps me going when things get tough.
How have you overcome challenges when it comes to balancing your personal and school life?
I don't know if I overcome challenges, or if the challenges keep changing.
It tends to be either schoolwork or personal time, as carving out designated time for rest doesn't work with kids at home, due to the unpredictable nature of children and parenting. I have learned not to leave papers or deadlines until the last minute as that tends to be the time when one of my kids gets sick or I have a meeting at the school. Over the past few years, I have learned to be in the present moment with my kids. I close my laptop for the weekend, take fewer pictures and videos, and spend time with my kids without screens. This refreshes all of us
What advice would you have to other graduate students in a similar position as you?
The right time will never come, so the best time to do it is now.
It's going to be hard, and there are going to be times you will want to give up. When you, look at your kids, you just keep going because you know they are a big part of your reason for pursuing your degree. Lean on family and daycare support to help you get through. It takes a village to raise a child, and you are still a good parent if they stay in an after-school program for an hour or two so you can get that paper done.