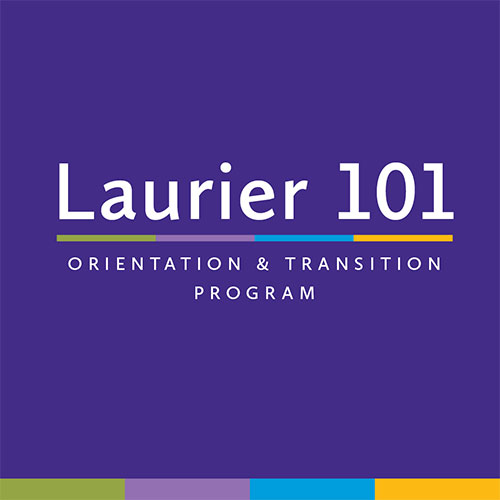 Academic support and services for incoming students
There are many academic supports and services to help in your transition to your new Laurier learning environment.
Take advantage of these services to enhance your learning experience at Laurier. 
Support for Online Learning
TriAGe: Preparing for University Calculus
If you're looking for assistance in Preparing for Calculus courses at Laurier, check out the Laurier TriAGe program offered this summer and fall!
TriAGe is a non-credit course designed to help you prepare for an entry-level university calculus course by reinforcing fundamental skills in Trigonometry, Algebra, and Geometry.
GOAL: Golden Hawk's Guide to Accessible Learning
If you have a documented disability that requires academic accommodations, review the GOAL: Golden Hawk's Orientation to Accessible Learning program information.
Register early with the Accessible Learning Centre (ALC) team to ensure your accomodations are in place for September.
The ALC will be available for consultations and appointments for registered students both in-person and remotely for fall 2021.
Academic Preparation Certificate 
The Academic Preparation Certificate is your chance to get a head start on preparing for courses. Through a combination of modules and activities you will be encouraged to think about your current study habits and how well they fit with a university learning environment.
The certificate can be completed all at once or over a series of visits and can usually be completed in under three hours giving you lots of flexibility.
The certificate is set up as a 'course' on MyLearningSpace which also gives you a chance to explore Laurier's learning management system before your course content is available.
When you successfully complete all of the certificate activities you can add the accomplishment to your Laurier Experience Record.
Student Success Services
Student Success Portal
The Student Success Portal is your home for booking time with our student success team. Whether you are looking for a one-on-one writing appointment or want to attend a virtual study skills workshop you will find a variety of resources when you log in to the portal.
Study Skills
Our study skills teams are here to help you assess your study skills and habits and help you upgrade your study strategies when needed. From time management and exam prep to note-taking and reading strategies we can help you stay on track and avoid procrastination when the term gets busy.
Writing Services
With peer tutors and professional writing consultants offering individual appointments as well as general writing workshops, the writing services team aims to help you develop your writing skills and prepare for course writing assignments. You can visit them to help you get started, get feedback before submitting and assignment or book a time to review a past writing assignment to you grow as a writer.
Math and Statistics (MaSt) Support
If you are taking a math or quantitative course (like economics or computer science) we encourage you to check out the resources available through Mathematics and Statistics Learning Support (MaSt). With peer-led homework help, directed study sessions, mock and exams, one-on-one appointments, and group mentoring, the MaSt team is busy making sure you have all the support your need to be successful in your courses. 
First Year Coaching
First Year Academic Coaches offer peer-to-peer support to help you navigate the transition to university.
Our coaching team is made up of successful senior students that want to help you get off to a good start. Connect with a coach to help you build a study schedule, discuss note-taking methods, learn effective study strategies and more.
Coaches are available for one-on-one appointments and host workshops on popular study topics. Your coaches can be found in residence or hanging with your LOCUS community, so don't be shy to ask about what works for them and how they survived first year!
Career Development Certificate
The First-Year Career Development Certificate Program will be offered from Aug. 3 to 20, 2:30 to 4 p.m.
Join your classmates to learn about career planning, resumé writing, job search opportunities and more in a small group workshop setting over the summer. Led by a career consultant, these session hope to leave you motivated and hopeful about your career options while also introducing you to all that the Career Centre has to offer.
Limited space is available. Contact Susan Malcolm, Career Consultsant, at smalcolm@wlu.ca to register.