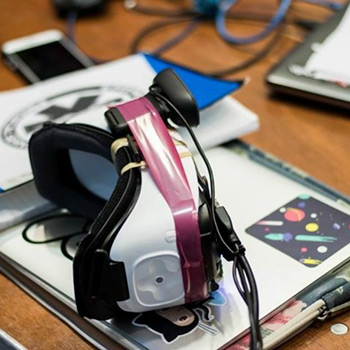 Top 10 finish for Laurier student and teammates at prestigious Princeton hackathon
An 800-kilometre drive, stiff student competition and little time – these were the obstacles that were easily overcome by Laurier Faculty of Science student Emils Matiss at the HackPrinceton event held in New Jersey over the March 31 weekend. Matiss and his teammates Susan Wang (Princeton University) and Mostafa Okasha (McMaster University) finished in the top 10 and won Best Virtual Realty/Augmented Reality Hack for their product, EyeSee.
An assistive headset for those with limited sight, EyeSee generates high contrast images streamed from a web camera. It also detects and enhances the outlines of common objects – further improving visibility for the end user. Built on a Mac operating system with Python 3.5 and open-source computer vision (OpenCV), the team then leveraged a Canny edge detector and a brute-force matcher (BFMatcher) to recognize and refine the imagery.
"Several people at the event told us how they thought our product could help someone they know with low or partial vision," said Matiss, an undergraduate student in Laurier's Bachelor of Business Administration and Computer Science double degree program. "It was very moving."
Physics and Computer Science professor Ilias Kotsireas, who supervises Matiss' research in the Computer Algebra Research Group Ontario (CARGO) lab, is excited for his student's future.
"Emils demonstrated his tremendous potential," said Kotsireas. "He has helped to put Laurier's computer science program on the map."
Matiss and his teammates are looking at ways to simplify the device in addition to developing a free app to be compatible with inexpensive virtual reality headsets. The group also has plans to consult with an optometrist to discuss how to optimize EyeSee's image output for other sight impairments.
Approximately 500 undergraduate and graduate students from across North America participated in the event, which featured challenges issued by sponsors such as IBM, Viacom and Amazon Alexa.