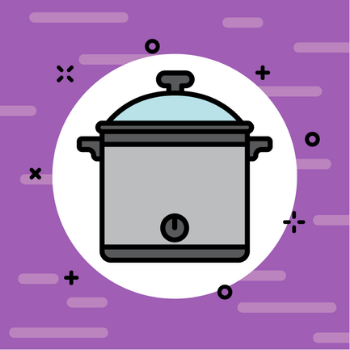 Cook up some fun in your Crock Pot
Student Affairs staff at Laurier's Brantford campus recently brought students together to connect and learn new culinary skills during an online cooking club called the "Crock-Pot Kitchen Party." This group was organized by Andrea Dalimonte and Sarah Syrett to raise awareness about food insecurity, sustainability and wellness.
Students joined a Zoom call with a different Laurier guest chef each week, who led the group through a live cooking demonstration. Each session covered a different culinary topic and all meals created included adaptations to meet different dietary needs. 
If you missed the event in March, catch up and cook up some fun in your Crock-Pot with the recordings and recipes below! Follow along with our guests chef for a cooking class right in your own home.
Chili
Prepared by Ivan Joseph, vice-president: Student Affairs. 
Cook along with Ivan using passcode: GB7++3$P
What You Need
1 - 1 ½ pound ground beef (sub pinto beans, corn, red bell peppers, and sweet potatoes for a
vegetarian chili)
1 medium onion, diced
4 garlic cloves, minced
2 cans (540ml/19oz) red kidney beans, drained and rinsed
3 tablespoons (49g) tomato paste
1 can (28oz) crushed tomatoes
1 - 2 tablespoons (8g - 16g) chili powder (depends on your chili powder's spiciness and
preference)
1 tablespoon (6g) cumin seed, ground
1 teaspoon (1g) dried oregano
1 tablespoon (15ml) olive oil
1 tablespoon (15ml) apple cider vinegar (optional)
Brown sugar, kosher salt, black pepper to taste
How to Make It
Brown the ground beef in a pan on medium heat with 1 tbsp olive oil. Season generously with salt and black pepper. Once browned, drain the meat.
Add onion, garlic, cumin, chili powder, and oregano to the pan. Saute for about 5 min. until spices smell fragrant. Stir frequently.
Add to crock pot, then stir in tomato paste, crushed tomatoes, and beans.
Cook on low for 6-8 hours or high for 3-4 hours. Season to taste with brown sugar, salt, black pepper, and apple cider vinegar.
Pulled Chicken Sliders
Prepared by Selena Alaimo, residence don, Brantford campus.
Cook along with Selena using passcode: 4L7Lh4.Y
What You Need
1 ½ pound boneless skinless chicken thighs
½ cup ketchup
½ cup bbq sauce
¼ cup water or chicken broth
½ tablespoon Worcestershire sauce
½ tablespoon apple cider vinegar
1 teaspoon yellow mustard
½ teaspoon cumin
1/8 teaspoon cayenne pepper
4 burger buns for serving
How to Make It
Add ketchup, bbq sauce, water, worcestershire, apple cider vinegar, yellow mustard, cumin and cayenne pepper to the slow cooker and stir to combine.
Place chicken thighs on top and flip over to coat the chicken thighs with the sauce. Cook on low for 6 to 7 hours or on high for 3 hours.
Once done, shred chicken and place back in the slow cooker and stir with the sauce. Serve immediately or turn slow cooker to the warm setting and serve later.
Macaroni and Cheese
Prepared by Jamie Wheeler, transition and retention coordinator, and Mitch Higgins, coordinator: off-campus first-year initiatives.
Cook along with Jamie and Mitch using passcode: $TF7q4$J
What You Need
2 cups uncooked elbow macaroni
4 tablespoons butter
1 or 2 cloves of garlic (depending on how much you like garlic)
2 ½ cups grated sharp cheddar cheese
½ cup sour cream
1 can of condensed cheddar cheese soup
1 cup of milk
How to Make It
Boil the macaroni in water for six minutes then drain. You don't want to overcook this! Pasta will still be a bit hard.
Mix butter and cheese over medium high heat in a saucepan. Stir until it melts.
In your crock pot, combine the cheese mixture, sour cream, soup, and milk. Add drained macaroni. Stir to combine.
Cook in crock pot for 2 hours on low, stirring occasionally. Do not cook too long or the noodles will be mushy!
Treat yourself to a bowl of delicious comfort food.
Spinach Dip
Skye McDonald, Laurier International student leader.
Cook along with Skye using passcode fUE1xp=A
What You Need
1 cup of spinach (fresh or frozen)
1 cup of mayonnaise
2 bricks of cream cheese (thawed to room temperature)
2 tbsp dill weed
1 cup grated cheese of your choice
2 cloves of garlic
How to Make It
Thaw cream cheese to room temperature.
Cook spinach.
Drain spinach.
Peel and chop garlic.
Combine spinach, mayo, cream cheese, dill weed, grated cheese, and garlic in a mixing bowl.
Mix until well combined and no lumps.
Transfer to crock pot and set to low heat.
Stir regularly. Dip is finished when hot all the way through.
Serve with pita chips, tortillas, bread, or crackers!
Want to bake it instead? Put it in a baking dish, and bake it in a 425 degree oven for 30 minutes.