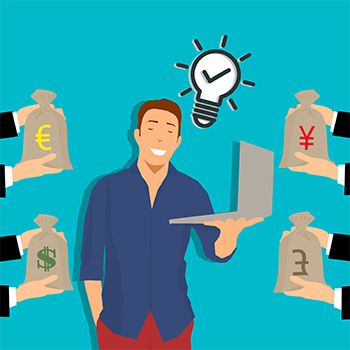 Don't leave money on the table with your job offers
In his recent article "Job Offer Negotiations: Helping Students Negotiate Their Job Offers," Steve Risavy, assistant professor of Organizational Behaviour and Human Resource Management, explains how you can communicate with prospective employers to maximize the value of a job offer while developing a positive relationship with the organization.
He began focusing on the importance of negotiation after repeatedly hearing from his students that they were too anxious to advocate for higher salaries for fear of the job offer being rescinded or because they simply didn't know what to say.
Check out some of Risavy's tips to help you negotiate your job offers. 
Sample Statements
Risavy developed a flow chart with specific, situational instructions and sample statements you can use with prospective employers. In this example, the salary range for the job in question is $50,000 to $60,000.
Have You Received a Job Offer?
 No
If completing application forms use: $55,000 to $60,000.
If attending interviews use: "Based on the data that I have gathered, for someone with my level of education and experience, in a similar type of job and location, I am hoping to be in the $55,000 to $60,000 range."
 Yes
Respond to the job offer email with:
"Thank you very much for sending along this job offer. I am very excited about the opportunity to work for [company name]. I did have a couple of questions about the offer, and I was hoping to arrange for a time to discuss this."
Do You Have Any Alternative Job Offers?
 Yes
Respond with:
"I really want to join [company name], but my dilemma is that I have another offer on the table that is at a higher amount. Is there any way that we can move the base salary up to $60,000?"
 No
Respond with: 
"Thank you again for providing this job offer, I am very excited about the possibility of working here and I see an excellent long-term fit with [company name]. Regarding this offer, I wanted to ask if there was any flexibility when it comes to the base salary that was offered?"
Three Key Takeaways
Not Negotiating Has Long-Term Effects
"Students who do not negotiate their job offers often leave value on the table, which will compound over time and perhaps throughout an entire career. Whatever figure you accept as your starting salary, any subsequent inflation or salary adjustments are likely to be anchored to that initial job offer. And even when you move on to a new employer, they might ask how much you are currently making, so you might still be anchored to that initial offer."
Know Your Market Value
"Students are often unsure how to answer questions about their salary expectations on application forms and during interviews. To most effectively respond and feel confident in their salary request, you should gather objective, publicly available salary survey data and determine a salary range for similar positions in your geographic region."
Skip Email and Pick Up the Phone
"While many students are inclined to negotiate their job offers over email, having a conversation in person, over the phone, or on Zoom gives you a lot more information. By listening to the other person's tone of voice or observing their body language, you can determine if they are willing to have this conversation or if they are showing some apprehension. That's good information to have so you can decide to change course if needed. You may also feel less anxious than if you're waiting for a reply in an asynchronous email exchange."