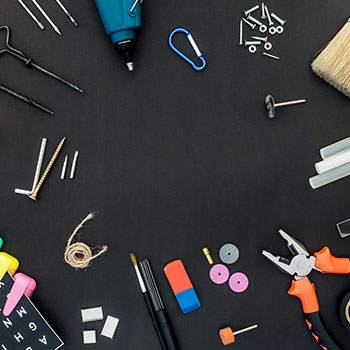 How some Golden Hawks are staying creative during the pandemic
It's been a year since the pandemic was first declared. Since then, our Golden Hawk makers have kept busy by continuing to create their projects even without access to the Library Makerspace at Laurier's Waterloo campus. 
The Makerspace community is a group of people who love to make things and teach hands-on skills to to others across a variety of disciplines. Amid the pandemic, the Laurier Makerspace community has helped students to stay connected and invent. 
Darin White, Communications and Cultural Programming Associate, has kept our student-makers together by providing a virtual space to share projects with one another. 
What Golden Hawks are Making
Check out some of the projects that have kept your peers busy over the past year. 
Bringing Sunshine Through Crocheting
Victoria Minassian made a throw pillow for her mom by crocheting 32 sunflower squares. She then sewed them together using two panels and made her own inner pillow to create the pillow's background colour. 
"The Makerspace has given me an amazing community where I am encouraged to create things and share my work!" says Minassian.

Indoor Green Thumb
Alex Keats has been vertical farming by growing beans in his window sill to prepare for the spring planting season. He is growing four varieties with two plants each and hopes that he can collect data to determine which plants will be best to grow in the summer.
"The Makerspace inspires me to learn by doing and it enables me to work on projects that only exist in my head," says Keats. "It has allowed me to build prototypes for my business, explore my creativity, and learn new skills like circuit- board design and 3-D printing. My experience at Laurier just wouldn't be the same without it."

Taking the Web Back in Time
Kirk Rietveld is building a website that is compatible with terminals and computers from the 1970s and 1980s. 
"It is a fantastic and diverse community of people who like to build, fix, and learn a wide array of topics and skills," says Rietveld.

Artsy Evolution
Roula Karawi has been documenting her artsy evolution through Instagram. She is exploring different styles of art using the SketchBook app as her medium. 
When asked about how the Makerspace has helped her, Karawi says, "How has it not? It was an outlet for all the artistic energy that I didn't know what to do with. It provided a safe space for self expression, and hosted a wide range of creative individuals who became a mini community filled with inspiration and support."

Trash to Treasure
Simone Granieri found a table in the trash and used it to create a piece of furniture for her home. She used wood putty, spray paint and drawer liners to repurpose this table and save it from the landfill.
"The Makerspace has given me a community of people to share my passion with. The people from the Makerspace opened up a whole new world that I didn't even know existed," says Granieri. "I feel supported in any project I start, and now I feel like I can take on new projects because I know I can turn to the community there. I hope to continue to be a part of the LLM after I graduate!"

Join Maker Mondays
Join in on the fun and start making! Maker Monday is a weekly drop-in Zoom session held from 1 to 4 p.m. Makers can connect, show off projects, ask questions or just get to know other students. 
Connect with Darin White at dawhite@wlu.ca or join the Laurier Library Makerspace Online Facebook group.