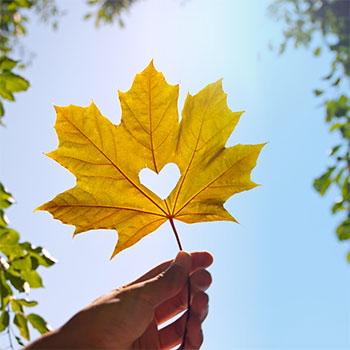 Student Wellness Review: Job opportunity and update
Dear graduate and undergraduate students –
In February 2021, Wilfrid Laurier University began a university-wide Student Wellness Review, where we consulted with a range of students to get your input through interviews, surveys and sensemaking sessions.
We are grateful to you for sharing your experiences related to student wellness initiatives, services and approaches; helping us to identify gaps and opportunities, and sharing your thoughts and ideas that will allow us to build on Laurier's culture of care to shape a vision for student wellness to guide us over the next decade.
Our phase one consultations reinforced that wellness is not limited to one specific department or area on our campuses. Wellness is embedded in every aspect of your student experience, and we know that each student experiences life in different ways – especially our equity-deserving students. Our approach to wellness at Laurier needs to reflect your realities.
Job Opportunity
We are now entering the next phase of our Student Wellness Review, where we will work together with students to take insights learned and build areas where we need to continue to grow.
We are excited to be partnering with our students in two main ways:

Our User Experience Design students will be working with our consultants to provide input and expertise on the user experience of wellness at Laurier based on insights gained during the consultation period.
We will be recruiting students from Waterloo and Brantford to take part in a six-week pilot of our new Student Experience Design Lab, where students with diverse experiences will tackle the insights from the consultation phase and co-create ideas and solutions that are relevant to students.
Under the mentorship of our external consultants, students will work on small teams to bring wellness-related projects and initiatives to life through weekly mentorship sessions and weekly team meetings.
Students will receive a $500 stipend, professional acknowledgement of their participation, recognition on their Laurier Experience Record and the opportunity to present their work to senior Laurier leaders.
If you are interested in developing human-centred design skills and having impact on the student-experience challenges of your time, apply now to become a Design Lab Assistant (Job ID 159671).
Next Phase
During our next phase of the Student Wellness Review, we will work with students to focus on:
Acknowledging wellness as a shared responsibility by creating more clarity around what you can expect from Laurier and what is expected of you related to your own wellness.
Leveraging existing partnerships and alignments to overcome systemic structures, policies and other barriers to achieve a greater and less siloed impact.
Developing an overarching wellness philosophy that is inclusive of the whole community, including students and employees.
With these strategic considerations, we will ultimately create:
A wellness framework to articulate our wellness philosophy.
A service standard to reorient existing services and design new ones.
An overarching approach to evolving student services that uses co-design and prioritizes high-impact student-facing initiatives.
Laurier has a history of high-touch, high-impact student supports and as students, you deserve the best. We look forward to using your insights to develop collective solutions that encourage student wellness and promote a sense of empathy and belonging within our community and ultimately allow you to thrive.

We invite you to visit the Student Wellness Review website or contact us for further details at deanofstudentswl@wlu.ca or deanofstudentsbr@wlu.ca.
Thank you,
Kate McCrae Bristol, Dean of Students, Waterloo campus
Adam Lawrence, Dean of Students, Brantford campus