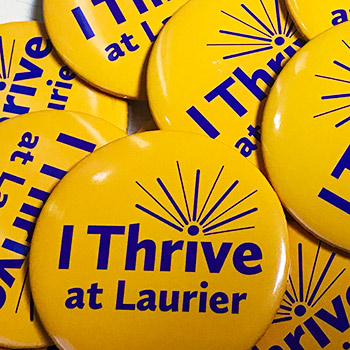 Supporting student mental health the focus of Thrive Week 2023 at Laurier
Taking care of your mental health is critical to your personal and academic well-being.
To raise awareness about the importance of mental health and highlight campus supports, Wilfrid Laurier University will host fall Thrive Week from Oct. 23 through 27, 2023. Thrive Week features health and wellness workshops and drop-in sessions, creative art opportunities, food, therapy dogs and a keynote presentation by international speaker, author and change agent Hayley Mulenda.
All Thrive Week events are free to attend, but you have to register in advance for some of them. A selection of well-loved Thrive Week events is highlighted below. A complete list of activities, events and workshops are available on the student website. You can also follow Laurier Wellness on Instagram to stay current on Thrive Week events and mental health supports and resources at Laurier.
Highlighted Events
Pancake Breakfast
Oct. 23, 9 a.m. until supplies last; Concourse (Waterloo), OM207-46 (Brantford).
Kick off Thrive week with a free pancake breakfast, complete with coffee and tea. Vegan and gluten-free options will be available.
Barbie Fit Dance Class
Oct. 24, 7 to 8 p.m., Turret (Waterloo); Oct. 25, 4 to 5 p.m., multipurpose room, Student Centre (Brantford).
Drop in, bust a move and break a sweat to the Barbie soundtrack with the Laurier Off-Campus University Students (LOCUS) group. Barbie-themed outfits are encouraged.
Mindful Music Exploration
Oct. 24, 4 to 5 p.m., Wellness Hub (Brantford). Advance registration required.
Escape from the academic grind with music therapist and programmer Krystina Bowen of Chickadee Music Services. During this workshop, Krystina will engage you in a mindful journey through the therapeutic power of music. Through carefully curated musical activities, you'll experience relaxation, stress relief and mental rejuvenation to help you through the fall term.
Keynote Lecture: "Building Bridges, Not Walls" with Hayley Mulenda
Oct. 25, 9 to 10 a.m., Zoom. Advance registration required.
Laurier welcomes Hayley Mulenda, an award-winning international speaker, author and change agent, to Thrive Week 2023 as keynote speaker. Overwhelmed by trying to balance her studies, business and personal life, Mulenda nearly took her life when she was 18. Since then, Mulenda has become passionate about raising awareness of mental health issues among millennials. Mulenda is celebrated for her ability to engage, communicate and encourage audiences from all walks of life and lived experiences.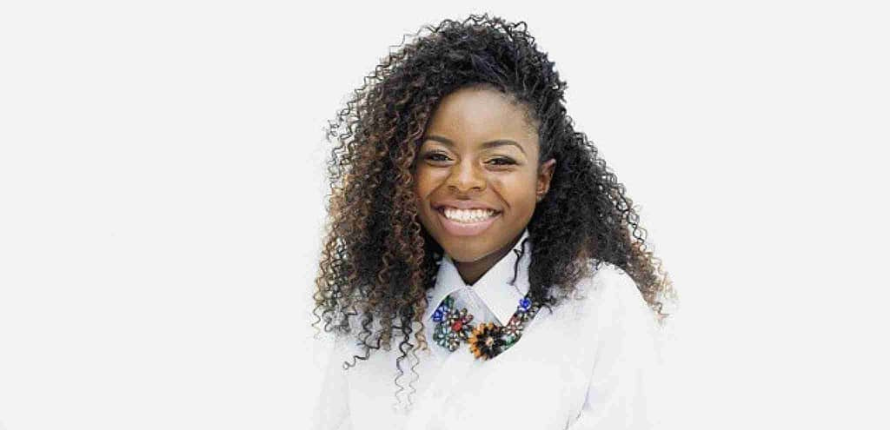 Photo: Hayley Mulenda
The Mindful Writer
Oct. 25, 11:30 a.m. to 1:30 p.m., Carnegie Building, room 100 (Brantford). Advance registration required.
Learn how to use writing as a tool for mindfulness during the highs and lows of student life during this workshop presented by Christa Hesselink of Soulplay. Lunch is provided. The Mindful Writer is offered in partnership with Writing Services and is funded by the Student Life Levy.
Chilling with Dogs
Oct. 25, noon to 1 p.m., Luther Chapel, Waterloo.
Drop by the chapel at Martin Luther University College on the Waterloo campus to chill out with some four-legged friends. You can play with the dogs or just watch them have fun.
De-stress with Dogs
Oct. 25, 3 to 4 p.m., multipurpose room, Student Centre (Brantford).
Take a break and destress with some adorable therapy dogs. Pet away your worries and find some relaxation amidst the semester's hustle and bustle. Don't miss this "pawsome" opportunity to relax and recharge.
DIY Relaxation Spray
Oct. 26, 12:30 to 1:30 p.m., Laurier International, Brantford.
Proper sleep is essential to good mental health and well-being. Drop by Laurier International and make your own relaxation mist to spray on your pillow and get a good night's rest.
Art Hives: Creating for Our Mental Health
Oct. 26, 1 to 3 p.m., Luther Chapel, Waterloo.
Drop in for creative artmaking facilitated by graduate students from Luther's counselling and psychotherapy programs. Destress, explore, refresh and have fun. All supplies are provided, and previous artistic experience is not required.
Fresh Fruit Friday
Oct. 27, 10 a.m. to noon, Concourse (Waterloo), Student Wellness Centre (Brantford).
Start your Friday with a complimentary piece of fresh fruit. Other wellness resources will be available, too. Student Wellness Centre staff will be available to answer any questions you may have.
Paints, Plants and Peers
Oct. 27, 1 to 3 p.m., multi-purpose room, Student Centre. Advance registration required.
Join Laurier peer wellness educators for an hour to de-stress by painting a clay pot while getting to know your peers. You'll pick a plant for your pot and take it home at the end of the workshop. This is a Thrive Week fan-favourite event, so register early to avoid disappointment.
Paints, Plants and Peers offerings at the Waterloo campus have filled.
Who wants prizes?
Thrive Week comes with prizes! Follow
@LaurierWellness
to learn more about Thrive Week contests and prizes.