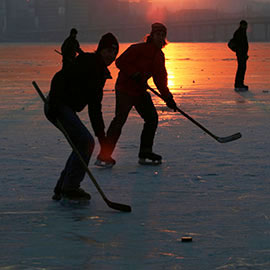 Chill Out: Things to do this winter
It's getting colder outside which means there are lots of fun winter activities to participate in on and around Laurier's campuses.
Brantford
Snow Week returns to Laurier's Brantford campus from Jan. 15-19, 2018. Rally your friends and enter a team to face off against Golden Hawks in games and competition. Registration opens Jan. 3.
Ice skate at a variety of outdoor rinks in Brantford, including the one located in the heart of the campus at downtown Brantford's Harmony Square.
Explore winter hike on the city's 70km of recreational trails.
Visit the many museums and galleries in Brantford.
Kitchener-Waterloo