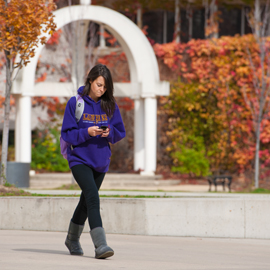 How to find your classes
Stressing about the location of your classroom on the first day of lectures is not a good feeling. Although Laurier is known for its small campus size, it's a good idea to familiarize yourself with campus before your first class.
LORIS
First things first, find out your detailed course information. Log in to LORIS, and select Registration > View Registration Information, then select your term from the dropdown.
This view provides you with your detailed course schedule, outlining essential information including: day(s), time, building, and classroom location.
Student Website
Detailed course information can also be found on the students.wlu.ca website, where personalization features put you in the driver's seat. Use the My Laurier tab to log in with your student credentials and manage your display options for quick and easy access to your timetable. Once you become familiar with Laurier campus building codes, this feature can become your go-to reference for your classroom location. Learn more about how to navigate students.wlu.ca.
Interactive Maps
Now that you have your course information, you can find the building location using Laurier's interactive maps. The maps allow you to customize your campus search to help you get where you're going. Select "Lecture Halls and Classrooms" and click on a building to receive a visual aid alongside the location.
Building Codes, Acronyms and Abbreviations
There are a lot of short forms and it can make finding your way challenging. Here are some frequently used abbreviations.
Waterloo Campus
AC: Athletic Complex
AH: Alumni Hall
Aird or A: John Aird Centre
ALC: Accessible Learning Centre
BA or BAB: Bricker Academic
BSIA: Balsillie School of International Affairs
C: Arts C Wing
Career Centre: Co-operative Education and Career Development Centre
CRW or CRRC: Centre for Cold Regions and Water Science
DAWB: Dr. Alvin Woods Building
Dining Hall: Fresh Food Company
E: Arts E Wing
FNCC: Fred Nichols Campus Centre
LH: Lazaridis Hall
Luther, MLU, Seminary (formerly Waterloo Lutheran Seminary): Martin Luther University College
N: Science Building
P or Peters: Frank C. Peters Building
PMC: Paul Martin Centre
R: 202 Regina
S&BC: Senate and Board Chamber
Schlegel: Schlegel building and Schlegel Centre for Entrepreneurship and Social Innovation
SRC: Science Research Centre
SS: Students Services Building
TLC: Teaching and Learning Commons
Brantford Campus
BPL: Brantford Public Library
CB: Carnegie Building
DAL: 97 Dalhousie
DAR or ISC: Indigenous Student Centre
EXP: Expositor Place
GRH: Grand River Hall
LMP: Lucy Marco Place
MDC: Market Darling Centre
MP: Market Place
OD: Odeon Theatre
OM: One Market
PH: Post House
RAC: Research and Academic Centre
RCE: Research and Academic Centre East
RCW: Research and Academic Centre West
SC: Student Centre
SCJ: SC Johnson
WH: Wilkes House Residence and Wilkes Hall
Understanding the Numbers
Now that you've found the building, you'll have to find your classroom. The first numeral in a classroom listing indicates the building floor. If your classroom listing is DAWB 2-108, your classroom is located on the second floor of the Dr. Alvin Woods Building, room 108. In other cases, there is no dash, but the first digit still refers to the floor. For example, if your classroom listing is BA429, your classroom is located in the Bricker Academic Building on the fourth floor, room 429.
Go in Advance
Take the time to find your classroom prior to the first day of lectures – it's worth it. Not only will you alleviate stress by knowing exactly where you're going, a prior visit allows you to determine how long the trek is from your residence so you can arrive on time. Going in advance also allows you to scope out the nearest food sources, restrooms, and water fountains.
The first day of lectures should be exciting, not stressful. Familiarize yourself with Laurier's campus and effortlessly find your classes.