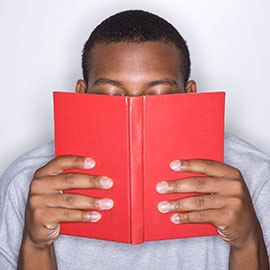 Find places to get your study on
Laurier's Waterloo and Brantford campuses feature an abundance of study spaces to choose from. Check out the Study Spaces page for details about hours of availabilities, OneCard access and your responsibilities when using the space. 
Waterloo
24-Hour Lounge
Located on the second floor of the Fred Nichols Campus Centre, the 24-hour lounge is equipped with computers, quiet study space, and group study rooms. If vending machines aren't enough to tie you over, the lounge is conveniently located right above Wilf's and the Terrace Food Court.
Lazaridis Hall
Take advantage of Laurier's state-of-the-art facility, Lazaridis Hall. Whether you are looking for individual or group study space, Lazaridis Hall is equipped to accommodate your study style.
Library
With a computer lab, group study rooms, a lounge area, the Laurier library offers amenities to suit all your studying needs.
Accurately nicknamed silent seven, the seventh floor of the library is for those of you who prefer to study in silence. Crack open your textbook in a private study carol and keep it down – there are hawks studying.
The Graduate Commons, located on the third floor of the library, is where graduate students head for quiet study space and group discussion.
Science Atrium
The Science Atrium is a bustling hub of students cramming for exams and offers a great spot for group discussion.
Solarium
The solarium is a top choice for students seeking a quiet study space; with comfy furniture and a great view, what more could you ask for?
Brantford
24-Hour Lounge
Your Laurier OneCard provides you with 24-hour access to the Student Centre lounge spaces and multi-purpose room. This study space is perfect for night hawks studying into the early morning hours.
Digital Library and Learning Commons
The Digital Library and Learning Commons is located on the lower level of Grand River Hall. Here you'll find individual, private desks with power outlets and large tables for group work, a bookable group-study room, computer workstations, scanners, and a printer and photocopier.
Brantford Public Library
The Brantford Public Library houses Laurier's Brantford campus collections and the third floor provides access to quiet study spaces. There's also a bookable study space on the first floor, with a maximum capacity of four persons.
Commuter Lounge
The Carnegie Building is where you will find the commuter lounge, a study space designated to students who are encouraged to take their eyes of the road and focus on their lecture notes. Perk: You might meet students commuting from the same destination; arrange a carpool and save on travel expenses.