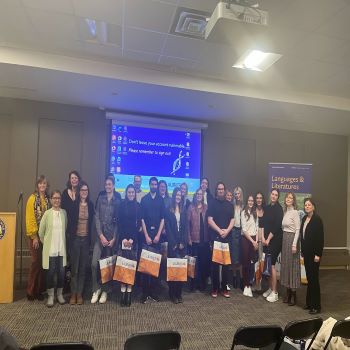 LL 2nd Students' Conference 2023
Everyone in the Languages & Literatures Department is enjoying the success of our amazing 2nd LL Students' Conference that was held on Friday March 24th with the help of our sponsors Laurier International and the Bookstore.
Our panel of judges, Dr. Nathalie Freidel, Dr. Milo Sweedler, Dr. Katherine Roberts and Dr. Eduardo Villalobos had a difficult time choosing from a diverse range of presentations touching on "El hambre de la carne en el poema Cristales", "La navigation de la liberté artistque" and concluding with eaqual representation of women in the Francophone literary canon and racial diversity or "la diversidad en la NHL". Throughout the conference the enthusiasm and the passion of the participants and their guests was palpable! A special thanks you goes to our Dean, Sofie Lachapelle, for gracing us with her presence and putting everyone at ease from the beginning with a personal story!
Prizes were awarded to Sara P-F., Melanie J-S. and the group of Beth M., Annie M., Camille J. and Rachel S.!
Congratulations to all the participants and thank you to everyone in attendance for your support! Looking forward to next year's 3rd edition!