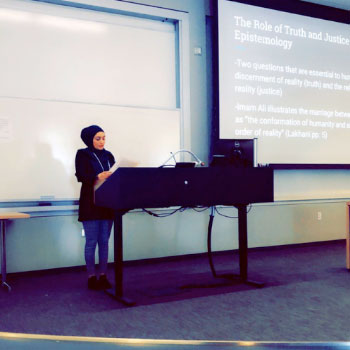 Laurier students reflect on "exciting and exhilarating" Religion, Culture and Global Justice program
Offered at Laurier's Waterloo campus, the Religion, Culture and Global Justice (RCGJ) program includes faculty specialists in disciplines across the social sciences and humanities who conduct research around the world. The program brings these instructor's diverse knowledge and expertise to students through close student-supervisor relationships that foster a transformative learning environment.
Religion, Culture and Global Justice offers participants an optional short- or long-term internship and a small cohort of peers, allowing for close interactions, in-depth conversations, and opportunities to attend and contribute to national and international conferences geared toward creating global change.
Below, Fatima Chakroun, and Shifa Abbas discuss their golden experiences as part of Laurier's Religion, Culture and Global Justice program, including why individuals should consider applying.
Meet Fatima Chakroun
First-year PhD student, Religious Studies
What initially interested you about the RCGJ program?
I was initially interested in the program due to its interdisciplinary nature. The combination of religion, culture and global justice was appealing, as it comfortably encompassed topics I was interested in exploring. I was also interested in the structure of the program, which allowed for focus on a particular paper and working toward enhancing the piece.
Tell us about your experience as a RCGJ student at Laurier?
I entered the RCGJ program to continue to explore research topics that I was already interested in. The courses that I took throughout the program supported my research interests while also allowing me the space to engage with parallel topics that piqued my interest and were relevant to my field. I was able to learn about a diverse array of topics and methods from my peers, who were incredibly passionate about their own respective fields of research.
The program also has a professionalization component that allowed me to gain experience in networking and organizing. This included coordinating and hosting a conference with two high-profile keynote speakers and panels in which students were able to present their work. Overall, the experience of the program was very pleasant and beneficial in terms of academic and professional progress.
"The support provided by faculty and the relationships cultivated between peers provided an unparalleled experience."
How do you plan to use the knowledge gained from this program in your future?
A year after I completed the RCGJ program, I was admitted into the Religious Studies PhD program at Laurier. The RCGJ program prepared me well for my next steps as it allowed me the opportunity to explore potential research interests for a future PhD thesis. The program also provided me with networking opportunities among faculty members that allowed for further exploration of career trajectories both within academia and outside of academia.
What would you say to others considering the RCGJ program?
RCGJ is a great program that provides flexible options and ample opportunities for students. There are opportunities for in-depth explorations of topics based on one's own interests.
Meet Shifa Abbas
Alumna (MA '19)
What initially interested you about the RCGJ program?
I was interested in the interdisciplinary nature of the program and its ties to both the Religion and Culture and Global Studies departments. I was also interested in the opportunity to TA for undergraduate courses. After receiving my offer, I was invited to meet with current students and sit in on classes to get a feel for the environment, as well as meet some of my future professors.
Tell us about your experience as a RCGJ student at Laurier?
I gained true and lasting friendships, engaged in mentorship with world-class academics, had a fulfilling extracurricular life, and was able to truly explore my academic interests in well-curated and engaging classes. I will always be grateful to my professors and colleagues in the program for providing me with such a beautiful and enriching experience. 
"My year-long master's program at Laurier was one of the most exciting and exhilarating experiences of my life."
How do you plan to use the knowledge gained from this program in your future?
The master's in Religion, Culture and Global Justice prepared me with the necessary skills to create a career in non-profit work, specifically within faith-based and interfaith work. During my MA, I cultivated a rich academic community, including a strong relationship with Professor Jasmine Zine, who provided me with the opportunity to work as a research assistant on her Social Sciences and Humanities Research Council-funded Canadian Islamophobia Industry Research Group.
Right after graduation, I was given the opportunity to complete an international development internship through the Government of Canada at a USAID-funded workforce development program in Djibouti Ville, Djibouti. After returning, I joined an international aid organization as its global coordinator. With myself, Fatima Chakroun, and another student in our cohort, we launched a community research platform and an open-source academic journal called The Decolonized Library Project.
Currently, I continue to work in the non-profit sector. My role is that of executive director at a grassroots civil rights and legal organization chapter that combats Islamophobia in the United States. I hope to complete a part-time PhD in Religious Studies in the coming years. 
What would you say to others considering the RCGJ program?
I recommend the RCGJ program to anyone who is interested in developing their academic interests in religion, culture and global studies. The program is interdisciplinary in nature and hones students' skills in a wide array of research specializations. I found the faculty members to be comfortable and successful in guiding my cohort in a multitude of research fields. I use the skills I gained during my MA almost every day.