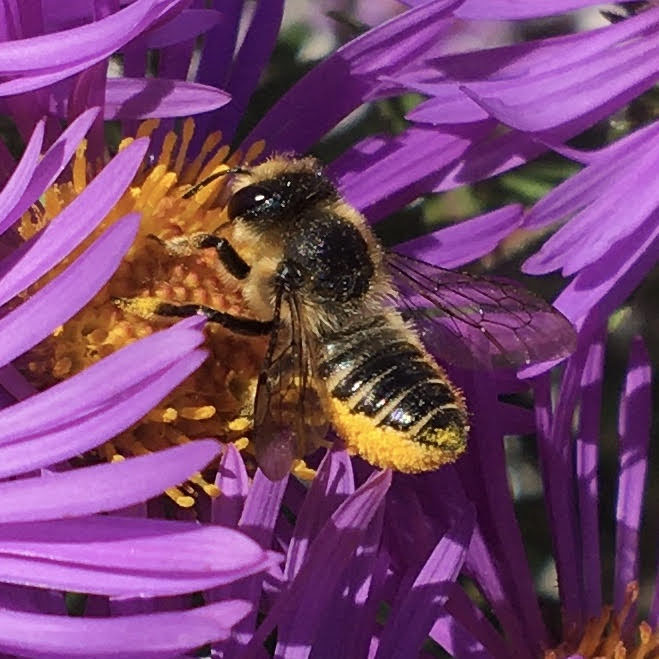 2021 ECO-Award Recipient: Jennifer Marshman
The Environmental Studies Association of Canada (ESAC) is pleased to announce the 2021 recipient of the Environmental Community Organizer (ECO) Award: Jennifer Marshman.
Jennifer Marshman is a Ph.D. candidate with the Laurier Center for Sustainable Food Systems and in the Department of Geography and Environmental Studies in the Faculty of Science at Wilfrid Laurier University. Jennifer has undertaken community-based, participatory, and action-oriented research in Canada and China. Her doctoral work studies food systems through the interconnections between people and the rest of nature through a multispecies, whole-of-community lens. Specifically, Jennifer's work explores the 'Bee City' movement and how this kind of municipal and community engagement strategy impacts conservation efforts for bees. Her background as a Registered Nurse allows her to bring a truly interdisciplinary lens to her teaching, instructional design, and research in inclusive and sustainable food systems. Jennifer animates a whole-of-community perspective from her doctoral research in her teaching and community engagement. This means that all members of the biotic community are considered in her community and advocacy work, such as the pollinator programming at Wilfried Laurier University which has been incorporated in to the 5-year Sustainability Action Plan. The University has a 'Bee Campus' designation and through ongoing collaboration and generous support from the Laurier Sustainability Office, pollinator programming on campus continues to evolve and grow. For example, the Building For Bees project brought together researchers with local activists and community members and is featured on the World Wildlife Fund webpage. Jennifer has also been exploring and learning about diverse ways of knowing nature, recognizing that traditional academic, peer-reviewed, research is not the only way that knowledge is created or shared. Jennifer welcomes ongoing conversation, creation, and collaboration.
For more information about Jennifer and her work:
Email: jmarshman@wlu.ca
Website: www.jennifermarshman.com
Twitter: @GrowShareRepeat
About the ECO-Award
Each year, the ECO-Award honours an individual, team, or organization who has positively contributed to the field of environmental studies in Canada through community-building, research, knowledge-to-action, and/or innovations in practice or approaches.
This award is made possible by a healthy level of participation and membership in Canada's environmental studies community. All nominators and nominees are encouraged to participate in ESAC by maintaining their ESAC memberships or becoming members.
The full selection criteria can be reviewed on the Call for Nominations for 2021 ECO-Award webpage.
The original article is posted on https://esac.ca/2021/06/2021-eco-award-recipient-jennifer-marshman/