Profile, Notifications and Account Settings
Access your profile, notifications and account settings from the minibar in the top right corner of MyLearningSpace, under your name.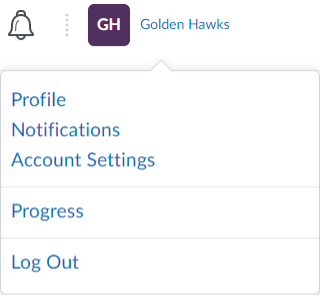 Profile
Under Profile, you can change your settings for your profile picture, contact information, social networks and personal information.
To access the settings:
In the minibar under your name, click "Profile."
Privacy Note
Be aware that the 'Profile' information is visible to any member of your classes, including instructors, students and TAs.
Do not post anything to your profile (such as your home phone number, address, personal email, etc.) that you do not wish to share with others.
Account Settings
Notifications
Notifications will always go to the email address associated with your account in MyLS. For Laurier students, this email will be your @mylaurier.ca email address.
Access Notifications Settings
1. Log in to MyLS.
2. Click your name in the minibar – top right of MyLS.
3. Select "Notifications."
Summary of Activity
Emails you a summary of all activity for each course as opposed to an instant email for each notification item.
Select how often you receive an email notification:
Never: turns option off
Daily: set an appropriate time
Weekly: set an appropriate day and time
You cannot control which areas of the course to be included in the email summaries.
Instant Notifications
Review and select any area you would like to receive email notifications.
Customize Notifications
Review the options and select the options you would like.
Exclude Some Courses
Choose the courses for which you do not want to receive notifications.
Under Exclude Some Courses, click "Manage my course exclusions."
1. Navigate to Notifications Settings, then Contact Methods.
2. Click "Register your mobile."
3. Enter the required field, including your phone number.
4. Enter the confirmation code sent to your phone. See Email to SMS Service below if you are having issues.
5. Using the "Max number of messages per day" dropdown, set the max number of messages per day you wish to receive.
6. Check or uncheck options based on your preference under Instant Notifications.
Email to SMS Service
You may receive a message stating that you are not subscribed to email to SMS service. Complete the following:
Text "yes" following the prompt in your text message.
Click "Resend my confirmation code" in MyLS.
If your carrier is Freedom Mobile (previously WIND), you must activate your email to SMS service before you can set up mobile notifications from MyLS. To do this:
Send an SMS message from your cell phone to the short code of 4000.
Click "resend your code" in D2L to be texted a 4 digit code from myls@wlu.ca before you follow the instructions on your phone.
Remove Mobile Number
To delete your mobile number at any time to stop receiving SMS notifications, click the trash bin next to your mobile number.
1. Navigate to Notifications Settings, then Contact Methods.
2. Navigate to the "Exclude Some Courses" section.
3. Click "Manage my course exclusions."
4. Click the X next to courses you wish to exclude, which changes the X to an arrow (click this arrow to restore the course).
Tips
If you are enrolled in several courses, use the search box to locate a specific course.
To restore notifications for all courses you excluded, click "Restore excluded courses."