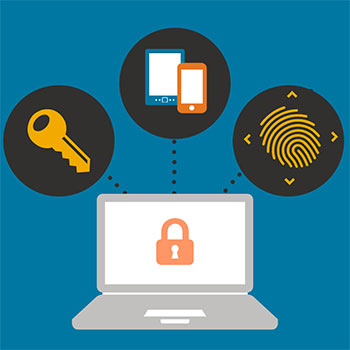 Multi-Factor Authentication: Push Notifications
Push notifications are one of the multi-factor authentication (MFA) options. They are messages that pop up on your mobile device. You don't need to be using your device to receive them.
If you use push notifications as your main method for MFA:
You can simply tap "Approve" on your mobile device to sign-in to your Laurier account.
You will not need to enter a six-digit one-time passcode for sign-ins.
For more information, see the Multi-Factor Authentication (MFA) for Students page.
Part 1: Install Microsoft Authenticator App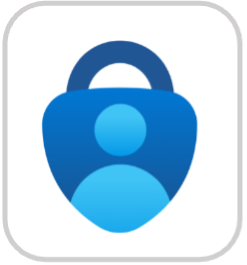 On your mobile device, search, download and install the Microsoft Authenticator app (application with a blue lock icon):
Part 2: Start Registration
On your device, open the Microsoft Authenticator app.
On your computer, launch your preferred web browser and go to auth.wlu.ca/MFA.
Click the "Enrol in MFA" button.

Select "Add or update MFA authentication methods."

Part 3: Add New Authentication Method
On the Laurier single-sign-on page, sign in with your full @mylaurier.ca email address. Click "Next" to enter your password.
Click "Next" on the "More information requried" screen.

On the subsequent Microsoft Authenticator pages, click the blue "Next" button twice until a QR code is revealed.

Part 4: Setup the Application on Your Device
Open the Microsoft Authenticator app.
Select "I agree" in the data privacy notifcation. You can disable data collection at any time in the app settings.
On the sign in with Microsoft screen, select "Skip" in the top-right hand corner of the app.

Select "Add Account," then select "Work or school account."
Part 5: Scan the QR Code
In the app, select Scan a QR code.
Allow app access to use your camera. You can remove this access later in the app settings.

iOS: Allow app to access your camera.
Android: All app to take pictures and record video.

Hold your phone over the QR code displayed on your computer screen. Your Laurier account will be automatically added.
Part 6: Verify the Authentication Method
On your computer screen, select the blue "Next" button.
On your phone, select "Approve."
Part 7: Create Emergency Login Codes
It is important to create emergency login codes in case you're in an emergency situation and you forget, lose, or damage your mobile device or security key, or are experiencing an issue with your MFA.