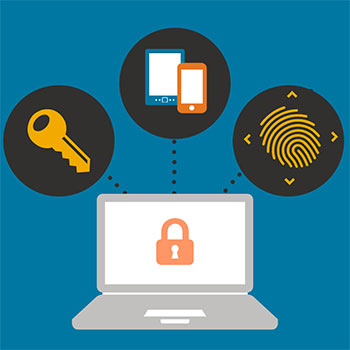 Multi-Factor Authentication: Security Key
A security key is one of the multi-factor authentication (MFA) options.
For more information, see the Multi-Factor Authentication (MFA) for Students page.
Follow the instructions below to enroll and set-up your security key or watch the Using a Key for Multi-Factor Authentication video:
Part 1: Purchase a Security Key
If you prefer not to use a mobile device for multi-factor authentication, you may purchase a NFC security key. 
ICT recommends the Yubico security key NFC at a cost of $31. 
Part 2: Set Up NFC Security Key for Registration
Go to myprofile.microsoft.com.
On the Laurier single-sign-on page, sign in with your full @mylaurier.ca email address. Click "Next" to enter your password.
On the Microsoft Profile dashboard, click "Update Info" on the Security info tile.

Click "+ Add Method" on the Security info page.

Select "Security key" from dropdown list, then click "Add."
Part 3: Register the Security Key
Select "NFC device" from the list of security key options.
Insert the security key into your computer's USB port. Click "Next" in the dialogue box that appears.
Click "OK" in the Security key setup window.

Enter a security key PIN in the Continue setup window. Click "OK."

On your security key: When prompted, place your finger on the finger print scanner on the key.

On your computer: Name your security key, then click "Next."
Part 4: Enable MFA in Laurier's Dashboard
On your computer: Launch your preferred web browser.
Go to auth.wlu.ca/MFA.
Click "Enroll in MFA."
Part 5: Create Emergency Login Codes
It is important to create emergency login codes in case you're in an emergency situation or you forget, lose, or damage your mobile device or security key, or are experiencing an issue with your MFA.