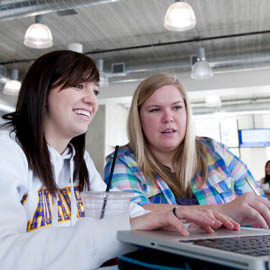 Creating an Accessible Campus: Accessibility Resources
Creating an accessible environment requires everyone to participate. As a student on campus, you'll inevitably find yourself in a position to contribute to this environment, whether it's giving a presentation in class, coordinating with group members on projects, running events in your club/sports activities or even in a role as a teaching assistant.
If you've never used the accessibility checker in Word or organized a student event before, taking accessibility into account can seem more complicated than it really is. If you're unsure, feel free to ask for help! The Equity and Accessibility office can answer any questions or concerns you might have.
Running Events
With a bit of pre-planning and forethought, creating accessible events can be easy. Creating accessible events helps you to simply create better events and ensure you're reaching your entire audience effectively.
The resources below will help you think about event planning – like the way you advertise, collect data on participants and their needs, organize the event and collect feedback afterward.
Documents, Presentations and Communications
Did you know the typical Microsoft software you likely use in your day-to-day already has existing accessibility features you can easily access? These features allow everyone to create, communicate and collaborate on any device.
Tips and Tricks
How-to Guides
Microsoft offers various resources online to help you get started. This includes their Inclusive Office 365 guide and their Office Accessibility Center.
Take a look at the resources below and see how you can make some simple adjustments when you go about creating your Word documents, PowerPoints or emails.
Word
PowerPoint
Outlook
Excel
OneNote
Contact Us:
Accessible Learning Centre

Equity and Accessibility, Human Resources