Black Student Services
Wellness Support
Meet Shevaungh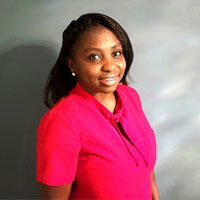 You are welcome to meet with Shevaungh Thomas, Laurier's counsellor/psychotherapist and registered social worker.
Shevaungh is a racialized counsellor/psychotherapist, and a registered social worker who works on the Brantford and Waterloo campuses. She works with students who identify as Black and people of colour.
Student Associations
Association of Black Students
The Association of Black Students (ABS) is a Waterloo campus-based student service that emphasizes empowerment, solidarity and progress within Laurier and the community. ABS encourages people to become more aware and involved with the movement to challenge social and racial inequalities. 
Our focus is to spread awareness about the experiences of Black students with the goal of ensuring all members of the Laurier community are well-informed and have a fulfilling university experience. Our activities include:
discussion groups/forums
workshops 
social activities
networking sessions
theBasement on Radio Laurier
awareness campaigns
our Beating the Odds conference
Our Programs
ABS's programs are designed to engage the Laurier community in thoughtful discussions, developmental activities and special initiatives with the goal of education and solidarity. 
Meetings, Socials and Coffee Houses
General Meetings: Held once a month, these meetings are to inform our members and others about the activities ABS will be hosting throughout the month.
Socials: Socials are held monthly to give members the opportunity to build relationships with one another in a casual setting. Socials include movie nights, potlucks, trips and more.
Biannual Coffee Houses: These social events give members the opportunity to showcase their talents for a special cause. Our coffee houses also serve as mediums to bring awareness to a particular issue so our members are educated while being entertained.
ABS's theBasement Radio Show
Every Sunday from 9-11 p.m., ABS hosts its weekly radio show titled "theBasement" on radiolaurier.com. This show is sure to keep its listeners entertained with popular, urban and cultural music as well as informed with discussion on topics ranging from societal issues to pop culture and lifestyle.
Beating the Odds Conference
The Beating the Odds Conference is an all-day conference held on Laurier's Waterloo campus for high school students to boost their aspirations for achieving higher education.
See the Programs tab for more information or email abs@wlu.ca.
Black Student Collective
Black Student Collective (BSC) is a student service that aims to inform and empower the Black community at Laurier Brantford. As a service, we aim to create a sense of family and community for Black students through activities that provide peer-support and education. Our work seeks to address systemic barriers experienced by Black students and celebrate the diversity of Black peoples. We encourage students to engage the Laurier Brantford campus in meaningful dialogue by facilitating discussion groups, forums, workshops, social activities, networking sessions, and awareness campaigns. Our vision is to support inclusion through intersectional decolonial discourses that educate the Laurier Brantford community about the rich and diverse heritage of Black students.
Our Programs
Black Student Collective is integral in delivering broader Laurier Brantford campus programming and provides opportunities such as Black History Month and the International Day for the Elimination of Racial Discrimination programming.
Ways to Get Involved
If you identify with our service, you should become a member. To become a member of the Black Student Collective, you must commit to attending a predetermined number of events and/or meetings throughout the year. Membership in the collective allows you to get involved in leadership roles, and you will be eligible to list Black Student Collective involvement on your Experience Record. Get involved by attending one of our meetings or email blackstudentcollective.laurier@gmail.com for more information.