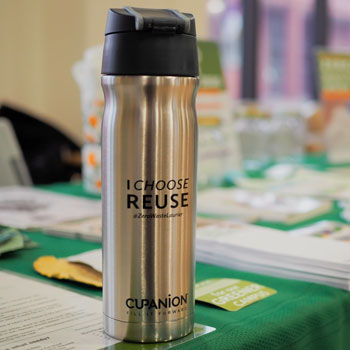 Wrap-up: Zero Waste Week 2020
From filling it forward with Cupanion travel mugs to swapping and not shopping with LSPIRG, we're starting to see people shift towards living a low-waste lifestyle. The week kicked off with Zero Waste 101 at the Concourse and wrapped up with our lifestyle workshops. Even with the postponement of the Freestore launch, the week was filled with excitement, success, and new partnerships.
Day 1 - Zero Waste 101 

Throughout the week, students and staff were challenged to the Zero Waste Challenge. For five days, participants used a 500-mL mason jar as their "garbage bin" and put inside all their landfill waste. The purpose of the challenge was to get participants to start thinking about how much waste they really produce in any given week. There were 100+ students that participated and seven Green Offices that took part in the challenge. In the end, there were 19 prize winners between Brantford and Waterloo and three winning Green Offices that had the highest participation rate.
The Sustainability Office also hosted "Zero Waste 101 @ the Concourse" to provide resources for those making the switch to a low-waste lifestyle. We hosted external vendors including Le Prix and FAIR/SQUARE and had internal partners - Food Services, Wellness Education, and the EcoHawks - provide giveaways, healthy food, and promote programming across campus!
Day 2 - Zero Waste Brantford

On Tuesday, March 10th our team dedicated one day to "Zero Waste Brantford." We gave away 50 free Cupanion travel mugs where students could choose to take part in their "Fill it Forward" campaign. The Student Affairs Office, EcoHawks, and Brantford Green Team attended the boothing event to provide students with opportunities to engage in sustainability! Following the Zero Waste boothing event, we hosted KarsNaturalKreations, where participants learned about adopting zero waste behaviours and how to make beeswax wraps.
Day 3 - Fashion

The third day of our Zero Waste Week Campaign included a "Swap Don't Shop" event in the Concourse. Students were welcome to bring an item in exchange for five items and if you didn't bring anything to donate, you could still take three clothing items. Students from residence donated over 20 bags of clothing, which we reduced by half by the end of the day!
Day 4 - Lifestyle 

On the final day of Zero Waste Week, we had a theme of "lifestyle." We invited one of our community partners – Jen Novakovich – from the Eco Well who talked to students about green beauty and zero waste packaging in the beauty industry. Participants got to go home with two homemade deodorants and chat with Jen about living zero waste when it comes to beauty. The final workshop of the day was held at the Library Makerspace with Darin White. Students got the opportunity to learn the basics of sewing and how to use leftover fabric to create something new!
Thank You & Freestore Update
Even though we weren't able to launch our Freestore, we have big plans for the upcoming school year! Stay tuned to hear about upcoming plans and our new launch date which is set for September 2020. If you have any questions about sustainability programming, please connect with Katarina at kmilicic@wlu.ca .
Thanks to our partners (below) and our volunteers who made this week possible!
Martin Luther University College
Le Prix Clothing
FAIR/SQUARE
Food Services
Wellness Education Centre
EcoHawks (Waterloo & Brantford)
Brantford City Green
Brantford Student Affairs Office
KarsNaturalKreations
Veritas
LSPIRG
The Eco Well
Library Makerspace