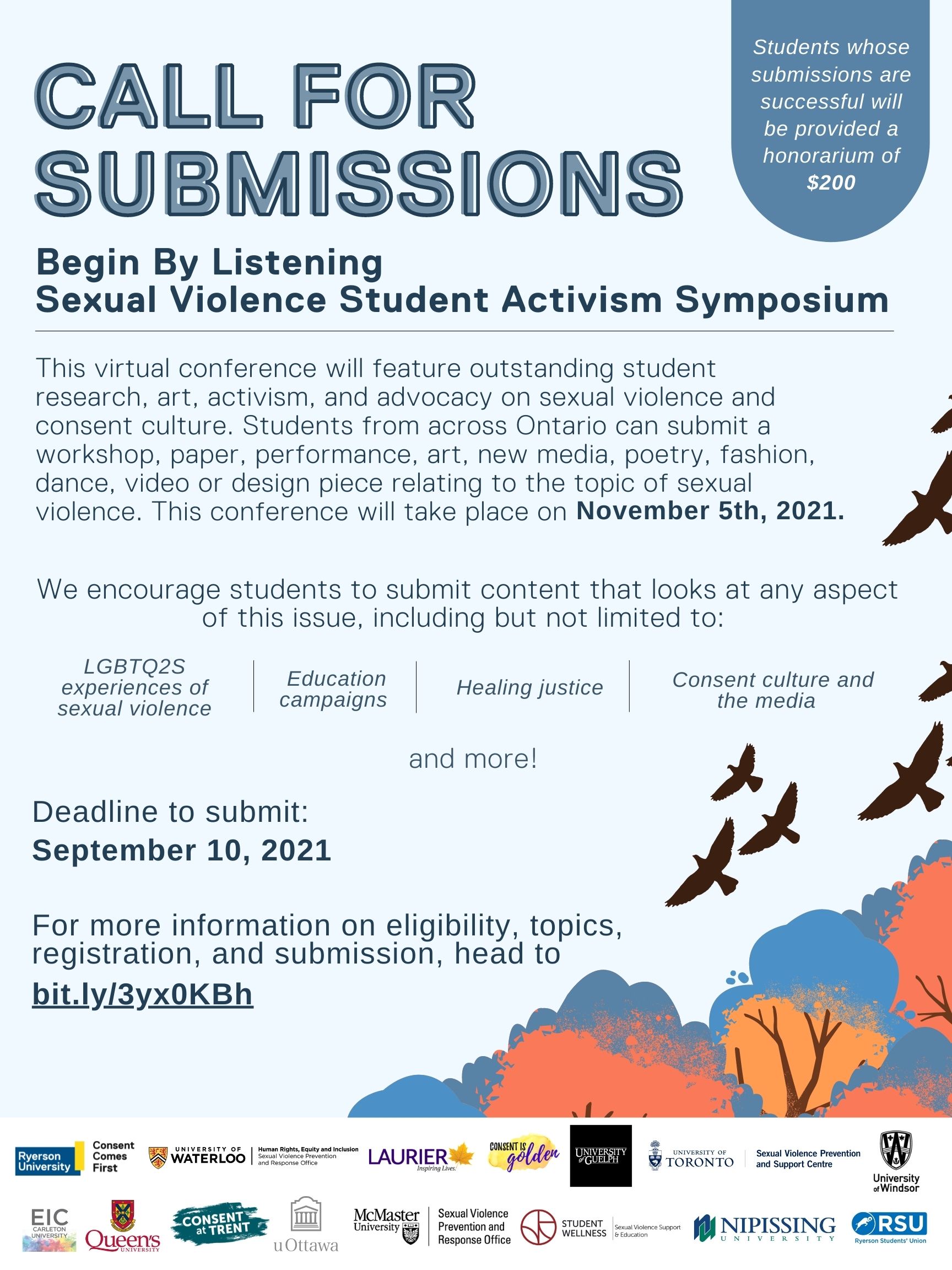 Begin By Listening Symposium
CALL FOR SUBMISSION: START BY LISTENING SYMPOSIUM
The Ontario University Sexual Violence Netwok invites submissions for its first Annual Begin by Listening: Sexual Violence Student Activism Symposium to be held virtually on November 5th, 2021.
This virtual conference will feature outstanding student (graduate and undergraduate) research, art, activism and advocacy on sexual violence and consent culture. Students from across Ontario can submit a workshop, paper, performance, art, new media, poetry, fashion, dance, video or design piece relating to the topic of sexual violence.
Students whose submissions are successful will be asked to either sit on a panel, display their work or perform at Begin by Listening: Student Activism on Sexual Violence Symposium. They will be provided a honorarium of $200.
All candidates will be notified by September 15th about their submissions.
ELIGIBILITY
The student submitting the work must:
Be a student who is currently enrolled or recently graduated at Ontario post-secondary institution
The work must have been created while at the above institutions
Submit a 300-word abstract about the research or art piece or workshop
Be available to present on November 5th, 2021
CONTENT
We encourage students to submit content that looks at any aspect of this issue, including but not limited to:
Healing justice
Sexual harassment in the workplace
Child sexual abuse, partner abuse, family violence, elder abuse
LGBTQ2S experiences of sexual violence
The impact of trauma
Protest movements
Transformative and restorative justice
Disability and sexual violence
Sexual violence and anti-Black racism
Multi-generational trauma and healing
People affected by sexual violence and systems
Sexual violence and settler colonialism
Impacts of sexual violence on Indigenous communities
Consent culture and the media
State-sanctioned sexual violence
Prevention and intervention practices
Education campaigns
HOW TO SUBMIT
Click this link to submit your piece: https://forms.gle/h9xhrCgXSaSB6pQK8, external link, opens in new window
REGISTRATION FOR THE SYMPOSIUM
We are so excited to have everyone join us at this first annual Begin by Listening: Sexual Violence Student Activism Symposium! Registration for this symposium will open on September 20, 2021. 
Check back on this site for the registration link or follow us on our social media platforms to stay up to date on event details and more.
Instagram (opens a new link) @ConsentIsGolden
If you have any questions, please feel free to email us at svinfo@wlu.ca.
LYDIA COLLINS - KEYNOTE SPEAKER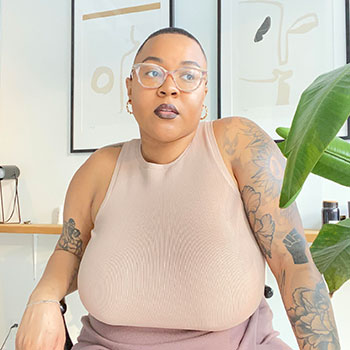 Lydia Collins is a writer and sexual health educator with a focus on HIV prevention in African, Caribbean and Black (ACB) communities, and decolonial consent education. Lydia is the author of three self-published chapbooks of poetry. She released Angry. Black. Woman. in January 2019, To Everyone We've Ever Been, in September 2020, and In Transit in February 2021. Her writing style is somewhere between Toni Morrison and Tupac; blending artistic genres of literature and music to express herself. Lydia pulls much inspiration from Maya Angelou, Roxane Gay, Kiese Laymon, Claudia Rankine, Damon Young, and Michaela Angela Davis.
Her writing has been equally shaped by some of her favourite musical geniuses including Wu-Tang Clan, Jimi Hendrix, Mereba, Bikini Kill, Whitney Houston, Toni Braxton, and Crime Mob's hit anthem Knuck If You Buck.