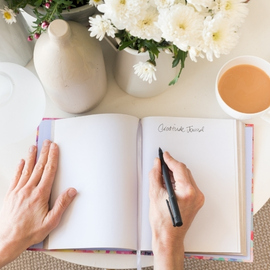 Gratitude: What It Is and How You Can Practice It
Updated March 21, 2022
By Jessica Linton, Wellness Education Assistant
What Is Gratitude?
Gratitude is the practice of recognizing and appreciating things that are valuable or important to you and acknowledging how those things have had a positive impact on your life or your state of mind. Practicing gratitude is done by consciously taking moments out of your day to direct your attention to things that add value to your life or improve your state of mind.
In 2016, there was a gratitude study done of university students seeking counselling and the effects of gratitude on their mental health. The control group, who practiced writing one letter of gratitude a week for three weeks, had improved mental wellness over the other groups who did not practice gratitude. This worked because by practicing gratitude, the students were using less words associated with negativity and consequently were releasing themselves from harmful thoughts by focusing on the positive things in their life.
Why Should I Practice Gratitude?
There are plenty of reasons to practice gratitude! By focusing on things that you're grateful for and focusing less on the negatives, you can experience improved optimism and happiness, which can be helpful in slightly countering the effects of anxiety and depression. Granted, gratitude can't always replace formal supports like counselling, but it can help lessen the effects and can improve your mood at least a bit!
One of the most positive benefits of practicing gratitude is that the regular practice of gratitude can help strengthen your relationships with others. Taking time to be grateful for the people in your life allows you to consistently remind yourself of what you appreciate about them and helps ensure that you don't take those relationships for granted. Gratitude can also be contagious! If you take the time to write a note of appreciation to a friend when they're feeling down, they may be more inclined to do the same for you.
Additionally, practicing gratitude lowers your cortisol levels and by extension, can help lower your stress levels. Stress is "the silent killer" because it can negatively impact your body in so many ways: including lowering your immune system, worsening mental health issues, and can raise your risk of heart problems. By lowering your stress levels you can improve your overall physical and mental wellness, which is a great benefit!
How Can I Practice Gratitude?
It's worth noting that the study mentioned above showed that positive results from practicing gratitude don't happen immediately.  It takes time and consistency to see a change in your outlook, so don't get discouraged if you don't feel a change right away.
Here are five simple ways you can practice gratitude on a regular basis:
Gratitude Journal: Writing down at least three to five things you're grateful for every day is a great way to practice gratitude regularly! To get into the habit of gratitude journaling, write in your physical journal or digital document at the same time each day - maybe right when you wake up or before you go to bed. You can write anything that you're grateful for, no matter how small. Small things to be grateful for could include eating a good meal, listening to your favourite songs, or something that makes you laugh.
Collage: If you're someone who likes to flex your creative and artistic side, making a gratitude collage might be a good fit for you, and you can do this either on paper or digitally on a site like Canva. To get started, compile a bunch of images and quotations that remind you of things you're grateful for and put them together to make a collage. Add your personal artistic flair to it and then put that collage somewhere you can see it regularly to be reminded of what you're grateful for.
Gratitude Jar: The idea of a gratitude jar is similar to that of a gratitude journal. Every day you write down two or three things that you're grateful for and then place those notes inside a box or jar. If you'd like to make it a bit more personal, you can decorate the jar or box however you'd like! After repeated use, your jar will be full of things that you are grateful for and you'll be able to refer to that box for small reminders of positivity when you're feeling down.
Thank Your Loved Ones: Writing either a brief or detailed message to someone you are grateful for is an extremely powerful gratitude exercise. When writing your message, be detailed. Reflect on all the great things about that person and list those characteristics in your message. If you're unsure who to thank, some ideas are a friend, a relative, or a professor. This is a powerful exercise because it not only allows you to think positively about someone who has had a great impact on your life, but sending that message to someone will help boost someone else's gratitude levels.
Spend Time in Nature: Nature is a wonderful thing to be grateful for! There are so many beautiful things to appreciate, like the variety of plants and animals.  Take 20 minutes each day to either go for a walk or sit in the park and appreciate the beauty of the Earth. You could even ponder the non-environmental things that you're grateful for while you're outdoors and unplugged from technology.