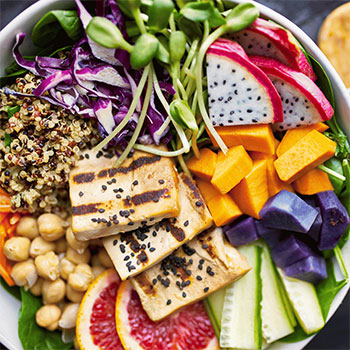 Top Ten Tips to Flourish on a Vegetarian Diet
by Sarina Wheeler, Manager of Wellness Education

October 1st is World Vegetarian Day! Have you ever thought about starting a vegetarian diet? You can avoid meat and still eat a variety of satisfying foods to provide the necessary nutrients to maintain health and feel good. Whether you're ready to move to a fully vegetarian diet, or are just wanting to eat less meat, the Student Wellness Centre has tips to help you stay nourished as you embrace more plant-based foods in your diet!
What does Vegetarian mean? A vegetarian diet is one that abstains from meat and seafood but may include other animal products such as dairy, eggs, and honey. Vegetarian diets have become increasingly popular over the last decade, especially among Canadians under 35. Approximately 7% of Canadians avoid meat and follow a vegetarian diet.
What does Vegan mean? Those who follow a vegetarian diet may wish to take it a step further and be vegan. Another word for a vegan diet is plant-based. Veganism is a philosophy and a way of living which seeks to exclude – as far as possible and practical – all products that originated from killing or exploiting animals, such as meat, eggs, dairy, leather, and wool. Approximately 2.3% of Canadians avoid all animal products and follow a vegan/plant-based diet. While a vegan diet that focuses on whole foods are generally higher in certain nutrients, a poorly planned vegan diet can lead to deficiencies. Vegans who don't consume any animal products need to supplement with B12, a nutrient necessary to produce red blood cells and prevent anemia. B12 is naturally present in animal products like eggs and dairy. Adults need 2.4 mcg of B12 a day but many nutrition experts recommend taking 1,000 mcg/day. You can find B12 tablets at the grocery store or pharmacy.
Why Choose a Vegetarian Diet?
Go Vegetarian For Your Health. One reason vegetarian diets are associated with healthier eating is that shifting intakes towards more plant-based foods can also lower intakes of processed meats (like hot dogs and sausages), which have been linked to increase risk of some cancers. Plant-based eating also lowers intake of food that contain mostly saturated fat, which is associated with cardiovascular disease. Beyond our physical health, several studies have shown the positive benefits of a vegetarian on our mental health, such as lower rates of anxiety and depression.
Go Vegetarian For The Environment. Animals bred for food take up vast amounts of land and water, while the industry contributes negatively to climate change due the greenhouse gas emissions. In fact, raising livestock animals creates more greenhouse gasses than all of the cars and trucks in the world, so reducing livestock production greatly reduces these emissions. Turning animals into meat also uses a huge amount of water; creating just one pound of beef takes 2,500 gallons of water – that's the equivalent of one person showering for six months! Shifting away from meat consumption can help reduce the environmental impacts.
Go Vegetarian For Ethical Reasons. Animals feel pain, fear, and loneliness like humans do. By choosing a diet that uses as few animal products as possible, you move away from supporting an industry that causes great animal suffering. Just google "factory farming" for an eye-opening experience!
Go Vegetarian to Save Money. Beans, rice, oats, potatoes, and bananas are some of the most affordable, nutritious foods you can buy at the grocery store. As well, plant-based proteins like legumes and tofu are often less expensive than animal-based proteins.
Are Vegetarian Diets Healthy?
Yes! A balanced vegetarian diet is healthful and nutrious. As well, a vegetarian diet provides health benefits in the prevention and treatment of certain diseases, says Dietitians of Canada. The key to thriving on a vegetarian diet, like any diet, is to ensure you consuming a wide variety of wholesome food.  This means choosing a variety of healthy food (like eggs, fruit, vegetables, whole grains, nuts, and seeds), while cutting back on less healthy choices (such as sugar-sweetened beverages, fried food, and refined grains like white bread). Contrary to conventional thought, it's easy to get enough protein on a vegetarian diet because every plant contains protein, as do dairy and eggs. Some nutrients are harder to get on a vegetarian diet, and you'll want to pay special attention to them if you are vegetarian. Read on to learn how to ensure you get those nutrients.
"By eating a balanced diet and choosing a variety of plant-based foods, you can get all the nutrients your body needs. " – Dietitians of Canada
Here are our top 10 tips to thrive on a vegetarian diet! 
Start Slow: Increase the amount of meatless meals you already enjoy, like vegetable stir-fries, rice and beans, mac and cheese, and scrambled eggs. It's okay to ease in; you'll be likelier to stick with a new lifestyle if you transition slowly.
Substitute: Take your favourite recipes and try them with a meatless alternative. For example, swap pork hot dogs for veggie dogs, or swap out the ground beef in spaghetti bolognaise with red lentils or crumbled veggie burger. You can find meat-free versions of all your favourite animal products at the grocery store, such as veggie bacon, burgers, and hot dogs.
Eat Your Greens: Green vegetables are a nutrition powerhouse! Try eating more salads, green smoothies, and serve your entrees with a side of green veggies. Dark leafy greens like kale and spinach are especially great for you as they are packed with fiber, vitamins, antioxidants, iron and calcium.
Up Your Topping Game: There are lots "super foods" that pack a nutritious punch in small quantities. Some easy hacks include: adding hemp hearts or ground flax to yogurt, granolas, and smoothies; sprinkle nuts and pumpkin seeds on your salads; add some nutritional yeast (contains B12) to pastas and tofu scrambles!
Get Your Vitamin D: Very few foods naturally contain Vitamin D, so ensuring adequate Vitamin D is good advice for everyone, even the non-vegetarians! Vitamin D deficiency is associated with increased susceptibility to all kinds of infections, as well as depression and other mental disorders. We can manufacture Vitamin D in our body if our skin gets enough exposure to the sun. However, The Canadian Cancer Society says during the fall and winter months the sun's rays are weaker and many Canadians spend more time indoors away from direct sunlight. Canadians may need to take a vitamin D supplement during these months, which is typically 1000 IU (international units) a day.  
Pay Attention to Zinc and Iron: Iron helps carry oxygen around the body. When we are low on iron, we can feel tired and weak. Vegetarians need about twice as much iron as non-vegetarians because of the form of iron found in plant-based foods. Some good sources of iron include dark leafy green vegetables, quinoa, dried fruit, blackstrap molasses and legumes like beans and tofu. Zinc helps in wound healing and boosts the immune system, and can be harder to find on a vegetarian diet. Good sources of zinc include legumes, eggs, nuts, pumpkin seeds and whole grains like whole wheat bread and brown rice.
Focus on Abundance, Not Restriction: Variety is the key to meeting your nutritional needs, because different foods have different nutrients. Try some new things! Have you tried tempeh yet? How about kale? Tofu? Quinoa? Challenge yourself to try foods you haven't tried before. The health of our diet is measured by what we eat, not what we don't eat.
Get Inspired: Peruse the hundreds of vegetarian cookbooks, recipe blogs, Tiktok, and Instagram channels for inspiration! Have you tried tempeh yet? How about kale? Tofu? Quinoa? Challenge yourself to try foods you haven't tried before.
Aim for Progress Over Perfection! It doesn't have to be all or nothing. You could start with Meatless Mondays, or eating vegetarian one week of the month, and see you how you feel. Don't be hard on yourself if you make mistakes along the way!
Find a Support Network: New endeavors are more fun with like-minded friends. Looking for more assistance with your nutrition? The Student Wellness Centres can connect you with a registered dietitian. 
You can also check out Eating Well: The Wellness Education Cookbook, with 20 easy vegetarian recipes to inspire you!
More Resources:
Dietitians of Canada Meal Planner
Canada's Food Guide
Mercy For Animals
Physician's Committee for Responsible Medicine