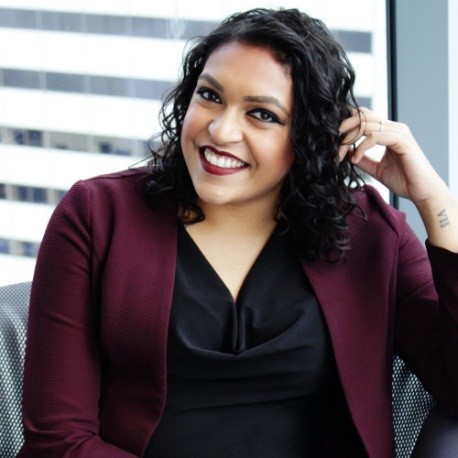 Communications Manager (Communications, BA)
Katryna Rodrigues, OMERS
By: Rebecca Regino, Outreach & Support Peer
Katryna Rodrigues is a story designer. With a strong belief in the power and purpose of communications, she highly values the design and execution of the story being told. As an advocate for critical planning and development, she is the prime example of a great communicator who started out as a proud Golden Hawk. 
Katryna graduated from Laurier with a BA in Communications. She debated between music and English in high school but found herself in love with the communications program. She recalls a time during a first-year communications class where the professor asked the class, "who wants to pursue a career in PR after graduation?" and almost everyone put up their hands. But at the time, Katryna admits, she didn't even quite know what PR entailed! After graduating, Katryna went to Centennial College to earn a Corporate Communications & Public Relations certificate, which led to an internship opportunity with the Ontario Cabinet Office as a fact-checker for the Premier of Ontario. Following her certificate, she worked part time to complete a master's in public relations from Mount Saint Vincent.
After the internship, Katryna landed a full-time position with the Ontario Cabinet Office and was promoted to be an Advisor — helping to develop speeches and support risk management strategies for the Premier's writing support team. Katryna recalls driving to work one day and listening to the radio only to hear about an announcement that Kathleen Wynne would give later that day that she helped to author. Two years later, Katryna became a Senior Communications Advisor at the Ministry of Economic Development and Growth and the Ministry of Research, Innovation and Science. Katryna mentioned fact checking and speechwriting can be high-pressure and fast-paced; you have to make sure that every word is exactly right to ensure clarity and accuracy as you communicate important information to Ontarians. 
Following her tenure with the government, Katryna moved to a Communications Specialist role with Ernst & Young where she developed corporate communications content, executive internal communications, brand programming as well as produced an internal podcast. After almost two years at EY, she moved to her current position at OMERS as a Communications Manager. OMERS manages retirement income for thousands of Ontarians through long-term, high-quality global investments. Katryna's job is to plan, develop and manage internal communications strategies to support human resource initiatives and talent. During the pandemic, she mentions that internal communications has never been more important in letting employees know their company cares about their health and wellbeing. 
In a fast-paced, dynamic environment with constantly changing trends, projects and news, there is no 'typical day' for communications professionals. The work of a communicator is threefold for Katryna: 
Looking at the campaign holistically and crafting, planning and strategizing the messaging
Developing the communications product; writing, editing and content-building
Advocating for the value of our work, so communicators can have a seat at the table among other executives 
Katryna mentions there is always a sense of community in all positions she's held and among the people she's worked with. Employees may range in values depending on the culture of the company, but her experience has been that communicators tend to be the type of people to see the opportunity in every situation. Academically, Katryna mentions that many communicators working in the industry also possess post-graduate education in PR or Communications, but some come from MBA or MA backgrounds as well. Communications is a powerful tool for so many reasons. From revenue building to reputation management, crisis communication to anchoring change — clear communication plans are imperative. For Katryna, the best part of this career is the purpose-driven work. Although communications can hold lots of power and impact, Katryna also mentions that there is a need to advocate for having a professional communicator at every level of the corporate team. She feels strongly about the value of the profession and believes that clear communication plans and strategies can solve a wide variety of workplace challenges. 
One of the largest challenges faced both in the industry, but also society as a whole, is diversity and inclusion. She reflects that as a person of colour (POC) it has been difficult to find mentors in the communications field who can share the same experiences and challenges. POC reflect our changing Canadian society, and so should our workspaces. As communicators, there is a huge responsibility to change this through internal communications and creating better opportunities for POC to advance. Ensuring that diverse voices are heard is the first step for making a change in the years to come. 
As a professional communicator who has worked in both the public and private sectors, Katryna leaves students interested in a communications career with the following key advice:
Canadian Public Relations Society (CPRS) and the International Association of Business Communicators (IABC) are great for networking and learning.
Seek out volunteer opportunities to write and create content to build your writing portfolio.
In an ever-changing society, it's important to always think ahead to how decisions or plans will look next year.
The communications industry is smaller than you think! It's great to connect and get to know the industry, but also make sure not to burn any bridges.
Even while interviewing outside Laurier, always answer questions in the STARR format to really sell yourself!