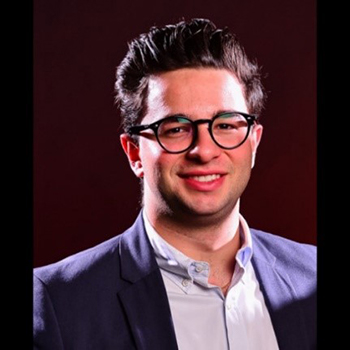 Associate Manager and Engagement Lead (Business Administration, BBA)
Giuliano Delfinis, Nielsen
By: Alexandra Fedorenko, Career Centre Peer

Giuliano Delfinis wasn't always certain of where his business degree would take him, but he always knew that he enjoyed solving complex business cases and had an appetite for quantitative analysis. Before joining the Nielsen team as a Marketing Analyst, Giuliano contemplated various career paths and found that the financial and insurance industry interested him as a student. However, what led him to his current role is the breadth of opportunities at Nielsen and within the market research industry.

Giuliano currently serves as the Associate Manager & Engagement Lead of the Marketing Mix Consulting division where he uses complex analytical tools to solve marketing-related problems. For instance, he consults clients on their marketing strategies by providing a return on investment on their campaigns (think TV ads, Facebook posts, YouTube ad videos, etc.) and then crafts recommendations on how to get more out of their marketing investment. To accomplish these tasks, his team works with various stakeholders to collect data for these studies and then uses programs including SAS and VBA (Excel) to clean the data for regression analysis. For Giuliano, the job differs daily but mostly consists of internal and client meetings, strategically allocating resources to ensure all projects meet deadlines, completing analytical work and special projects. Giuliano loves the exposure and depth of opportunity within this industry and enjoys that he gets to see the internal operations of many businesses and what they do to make their brands successful.

Leading up to his current position, Giuliano participated in various case competitions at Laurier and was a member of the Advertising Project club on campus. Within this club, Giuliano facilitated case competitions that offered opportunities to analyze and solve business problems. These volunteer experiences were great exposure to the real-world business challenges he faces in his professional life.

To be successful within an Associate Manager role, students should have a numerical appetite and a general understanding of the business functional areas. Some exposure to Excel and PowerPoint as well as a solid understanding of statistics and how to program code can go a long way within this role. Also, having a positive attitude and willingness to present and build client relationships is a core element of his position. Although a business degree is favourable, Giuliano notes that individuals from other disciplines have also been hired within Nielsen in most professional service (consulting type) divisions. As long as there is appetite and exposure (such as course work) to analytics in dealing with numerical data, Nielsen would be a fit. Soft skills also go a long way, such as presentation and networking.

Giuliano noted that a challenging aspect of this role is getting data and results later than expected and dealing with uncertainties and delays as they arise. Therefore, being able to proactively plan and allocate resources to get the job done is necessary to succeed in the job.

A current trend within the marketing analytics industry is the emergence of digital advertising, which has significantly disrupted the industry. Specifically, he has seen how consumers are leaning more towards spending time on Facebook and YouTube, which has forced clients to shift investment away from traditional advertising channels such as TV, radio and print, and instead into digital mediums. Giuliano is at the forefront of this changing landscape. With respect to advancement at Nielsen, there are many ways to grow within the company. In particular, there are opportunities to develop into more sales-oriented roles or analyzing consumer behaviour from a global marketing perspective.

Some relevant resources that Giuliano recommends to students are AdWeek and eMarketer as they provide an array of research on the industry. Giuliano also advises students to take university courses that interest them and have a good balance of marketing and analytical courses. In addition, getting involved outside of classroom activity is a great way to add value to your resumé as it speaks to your character and interests. Likewise, researching Nielsen as an organization and marketing analytic trends will serve you well in interviews and networking opportunities.